This past month I celebrated my birthday, with each passing birthday I usually like to take stock and reflect on what I have learned in the past year. This past year has been an interesting and challenging year. With an out of state move and a big career change for my husband; a lot has changed. One thing I have learned for certain is change is good. It shakes up our lives and when the pieces fall they always seem to fall in just the right way. Change helps us to learn and grow and become a better version of ourselves.
Sometimes I am shocked when I look in the mirror and I don't see my 20 something self staring back at me… Because to be perfectly honest I still feel super young! I used to think that being in your 30's was SOOO old! But now that I am there, I still feel so young! But as I  have  gotten older – the wrinkles are staring to make their appearance and strange sparkling grey hairs are popping up like popcorn! So WEIRD! So some changes are not for the best… So for the past couple years I have been spending time and money on AGE prevention and maintenance. So those wrinkles stay in check and my complexion still fools people into thinking I am younger… Cause what adult human being doesn't want to look and feel  younger. Because aging with grace is everyone's goal!
So when MitoQ  offered to send me some samples of their revolutionary new anti-aging products I jumped at the chance! The secret is that MitoQ restores your cellular batteries. MitoQ is a revolutionary new form of CoQ10 that targets mitochondria, your cellular batteries – it is scientifically proven to be 847 times more effective than CoQ10! MitoQ is backed by over $50million in research and has over 200 papers published investigating its effect. Healthy mitochondria are vital because they give your cells and organs the energy they need to function well. Mitochondria are responsible for making 90-95% of the energy in your cells and in the process produce 90-95% of the free radicals. For this reason mitochondria need very good antioxidant protection. This protection declines over time leading to less effective mitochondria and free radicals spilling into the cell causing damage to cell contents and our DNA. MitoQ supports mitochondrial function and also reduces free radical damage in the cell. Our mitochondria reduce in function around 10% every decade. This means your cells don't get the energy they need as we age. We see this in our skin but it is happening to our other organs to. MitoQ boosts mitochondrial function to deliver more energy to your cells so that they can act like they did when you were younger. Can I get an Amen!
Crazy right?! Remember junior high science where we learned that the mitochondria is the powerhouse of the cell… I actually made a cake diagram of this! Keeping the powerhouse  healthy and functioning at its best is huge to helping our bodies work and function for peak performance.
So here are my honest thoughts of my experience of  taking MitoQ religiously for the past month as well as using their anti aging serum. I have a seen a big difference. I  have more energy during the day and my brain functions better. What I mean by that is I feel like I can focus more and I don't feel quite as scatter brained! So for me MitoQ has made a difference and is totally worth checking out!
Not only do I feel healthier and have more energy, my skin looks amazing and more youthful. Win-Win!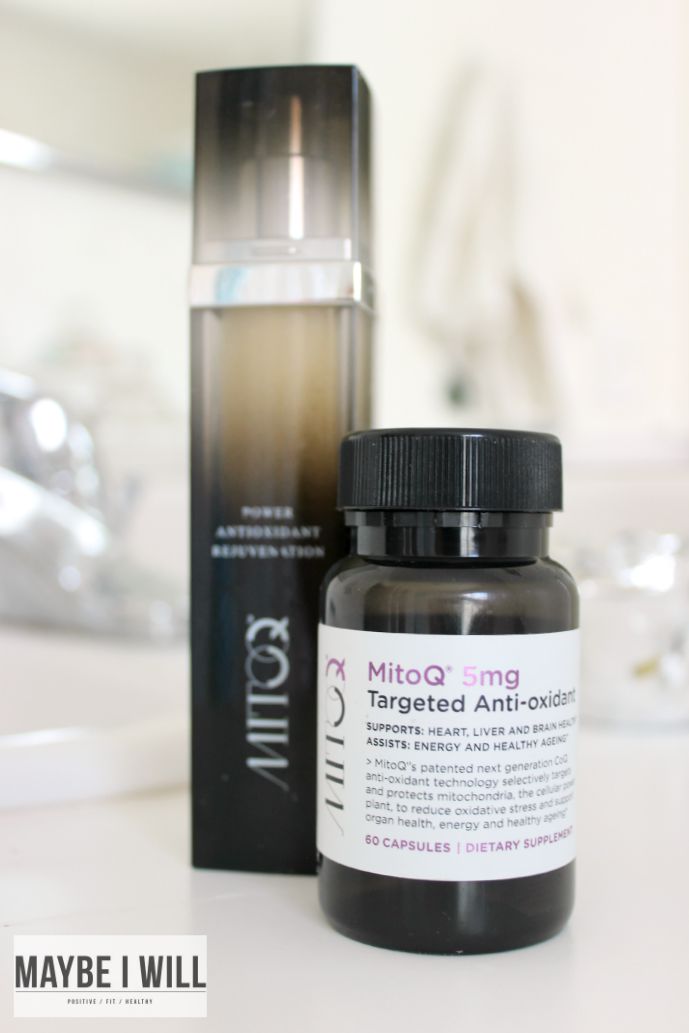 So go grab some MitoQ for yourself! And I want to know what YOU think  is the best thing about aging?!
This is a sponsored conversation written by me on behalf of MitoQ. The opinions and text are all mine.