Banana Chocolate Protein Muffins!
One of my favorite places to shop on earth; the Vitamin Shoppe just got a little cooler if that's even possible… the Vitamin Shoppe my go to for supplements, protein powder, workout fuel, and pretty much everything else I need to fuel my body; just announced a SWEET addition to it's awesomeness! (Are you sitting down?) This is REALLY big news! They are opening a Protein Pantry!!! So you can LOAD up on protein packed pancake mixes, baking mixes, syrups, and my personal favorite flavored nut spreads. I may or may not of totally drooled on my keyboard when I did a little online stalking of their recent addition! Are you kidding me Red Velvet Nut Spread?!? Strawberry n' Creme Protein Pancake Mix?!? My dreams/prayers have been answered! All Protein Pantry items are chalk full of protein, fiber, and are Non-GMO! Can I get an Amen!
Well sometimes as I blogger I get some pretty sweet perks… Like a box from the Vitamin Shoppe filled to the brim with such goodies! I decided you lovely people need to see EXACTLY how cool the #ProteinPantry is … so I whipped up a little video outlining some of the things I got to try out! – And yes I am wearing grey again…. But at least it's a tank top (that counts as different right?!?)
After playing around with some of my new pantry goodies I whipped up a batch of Banana Chocolate Protein Muffins! I used the Light Chocolate Mancakes baking/pancake mix and a dollop of P28 White Chocolate High Protein Peanut Spread… Let's just say the result was pretty dang awesome!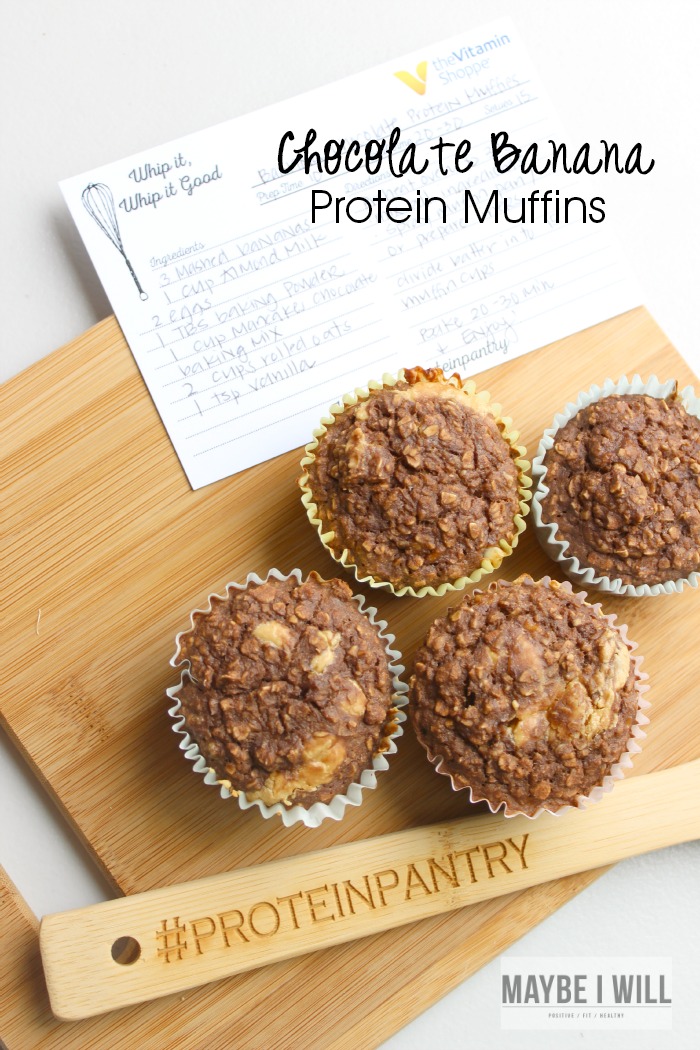 Chocolate Banana Protein Muffins
Banana Chocolate Protein Muffins! - A Protein packed treat with no added sugar + A Sneak Peak at the Vitamin Shoppe's all new Protein Pantry!
Ingredients
3

Mashed Ripe Bananas

1

Cup

Almond Milk

I used Vanilla Unsweetened

2

Eggs

1

TBS

Baking Powder

1

Cup

Mancakes Light Chocolate Pancake/Baking Mix

2

Cups

Rolled Oats

1

tsp

Vanilla

2

TBS

Unprocessed Dark Cocoa Powder

Optional - Add a dollop of P28 White Chocolate High Protein Spread to the center of each muffin... I made some with and some with out - Both we're yummy!
Instructions
Preheat oven to 375

Mix all ingredients together until well incorporated

Pour batter into prepared cupcake tin - use either cooking spray or cupcake liners

There should be enough to make 15 muffins

Bake 20-30 minutes - Let Cool and Enjoy!
Nutrition Facts
Chocolate Banana Protein Muffins
Amount Per Serving
Calories 166
* Percent Daily Values are based on a 2000 calorie diet.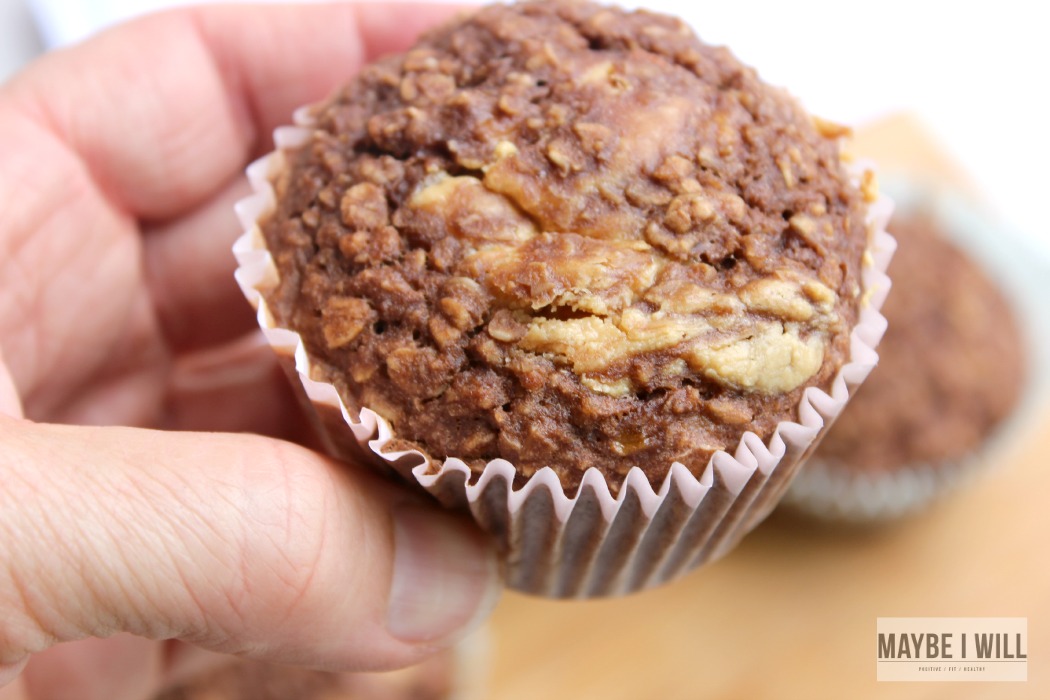 Um Hello Lovely I will eat you now….
So I hope you're as excited as I am to get your shop on and load up your pantry with some yummy goodness! Eating healthy is so much easier when you have good food on hand! It really makes all the difference! So next time you're craving pancakes – you'll have a great high protein, low sugar, high fiber option on hand and you'll be able to enjoy some pancakes without derailing your progress… That my friend is winning!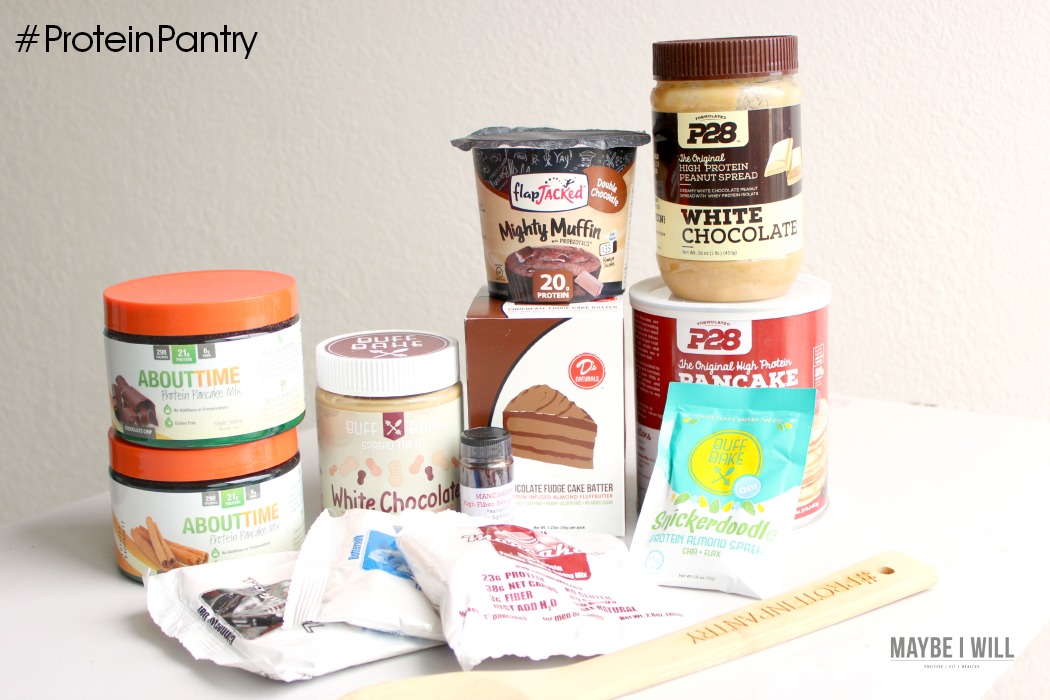 Just a SMALL sample of what the #ProteinPantry has to offer! So much goodness!
Make sure you follow/stalk the Vitamin Shoppe via their social media platforms…YouTube, Twitter, Instagram, Facebook, and Google + 
Oh and Thanks the Vitamin Shoppe for letting me play! I love my new Tank!
This post is sponsored by FitFluential on behalf of Vitamin Shoppe. All opinions are mine.