Lake Powell The Ultimate Family Vacation
In a world of constant connection and distraction, Lake Powell is a magical place where families can connect and spend valuable time making memories.
As my kids are getting older and time seems to be sifting through my hands as quickly as sand, I realize all to quickly my house will no longer be filled with mountains of laundry. Soon it will just be Kelly and me, while these sweet kids of ours will be out, living their own lives.
I know the day is coming. I am not okay with it. My only solace is the thought of grandkids ????
So, for the time being, I am savoring every moment and taking every opportunity we can to spend REAL time together as a family.
There are so many interesting and exciting places to vacation, and we have had some amazing ones over the years.
But our favorite place to go is Lake Powell.
Why Lake Powell?
Lake Powell is this magical place if you have never been – where cell service is a memory, and the sunsets are Heavenly masterpieces.
For a few days or however long you decide to stay, you get to live in your own little world. There are no phones, no neighbors, just you and your little crew.
For some, this might breathe anxiety.
But in a world of constant connection and distractions – disconnecting is a splendid and much needed gift. A must for every family.
For five days, we played, dreamed, soaked up the sun, and lived a magical, peaceful existence.
My kids are not perfect, but for a few days on a boat, they got along. They played together and used their imaginations. It was pretty miraculous, folks. Even my teen got in on the fun and reconnected with her younger siblings.
As parents, it was a week of memories we will treasure for a lifetime.
These are the types of things I want to collect, memories, not things.
My kids may or may not remember getting what we bought for them over the years. But they will remember the time we took them out of school and spent an entire week on a houseboat at Lake Powell.
I want to get you excited and put your mind at ease! Renting a houseboat and spending a week at Lake Powell with your family is totally doable. I promise you do not need to be intimidated. If a drunken boat of "bros" can handle it. You and your little family have got this!
Over the next couple of weeks, I will be sharing my MUST pack list and also My pro tips guide to make sure your magical trip to Lake Powell goes off without a hitch, and you love it as much as we did!
For the time being, let's talk about the highlights and why you should consider Lake Powell for your next family vacation.
What We Loved Most About Our Trip
As previously mentioned, you will get some much needed 1-1 time with your family, sans phones, and devices. (leave them at home, cell phone and data service were spotty at best.)
My husband kids love to fish, and Lake Powell is an excellent place for that. Make sure and read the local fishing reports to know what the fish are biting on before you go. A friend of ours recommends fresh anchovies as his no matter what fall back choice for success.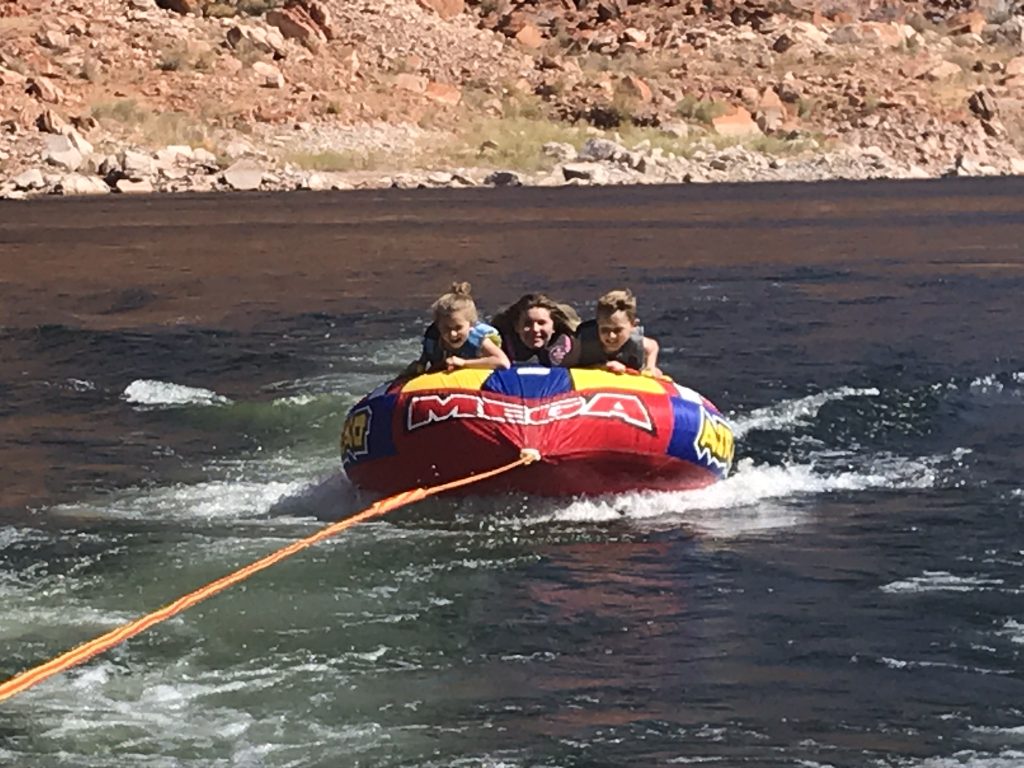 Besides Houseboats, you can also rent powerboats and other toys so you can spend time on the water tubing, and waterskiing. My kids loved tubing; this was a big highlight of our trip.
The stars are CRAZY!! You will see the stars in a way that you have not before, and they are entirely mesmerizing. My absolute favorite part of our trip was sitting in the hot tub on the top deck of our houseboat. We saw shooting stars every night. It was this magical little bubble of awesomeness at the end of our day.
Being in such a quiet still place with no one around, Lake Powell is a perfect place for meditation and reflection. Every morning I would do a yoga flow and bask in the sun as I meditated and journaled. I felt totally rejuvenated after our trip.
Here is a little video of our family highlights! It was a trip that I will treasure and remember always. My kids all want to go back!