5 Quick & Healthy Treats For When Those Cravings Hit!
"This shop is part of a social shopper marketing insight campaign with Pollinate Media Group® and Pure Via®, but all my opinions are my own. #pmedia #PureViaSweet , https://my-disclosur.es/OBsstV"
We all have those moments when we our sweet tooth hits us like mac truck and we NEED something sweet STAT! And with an amazing  natural sugar substitute like Pure Via you can indulge your sweet tooth without an ounce of guilt! Pure Via is a sugar substitute made from the pure, sweet extract of the Stevia leaf (no artificial processing or preservatives!)
So to help you out in those rough times when you need something quick! I've concocted 5 Amazing, delectable treats that you can whip up in less than 5 minutes!! Yep 5 minutes!! With natural sugar substitute Pure Via it's a cinch to whip up yummy treats  in a flash without breaking your calorie bank for the day!
I think I covered all "emergency" flavors, so no matter what your little heart desire I've included a flavor to crush your craving!
For my lemon loving friends I concocted a sweet and light Lemon Ricotta dessert! Because sometimes you need a kick of lemon freshness in your life!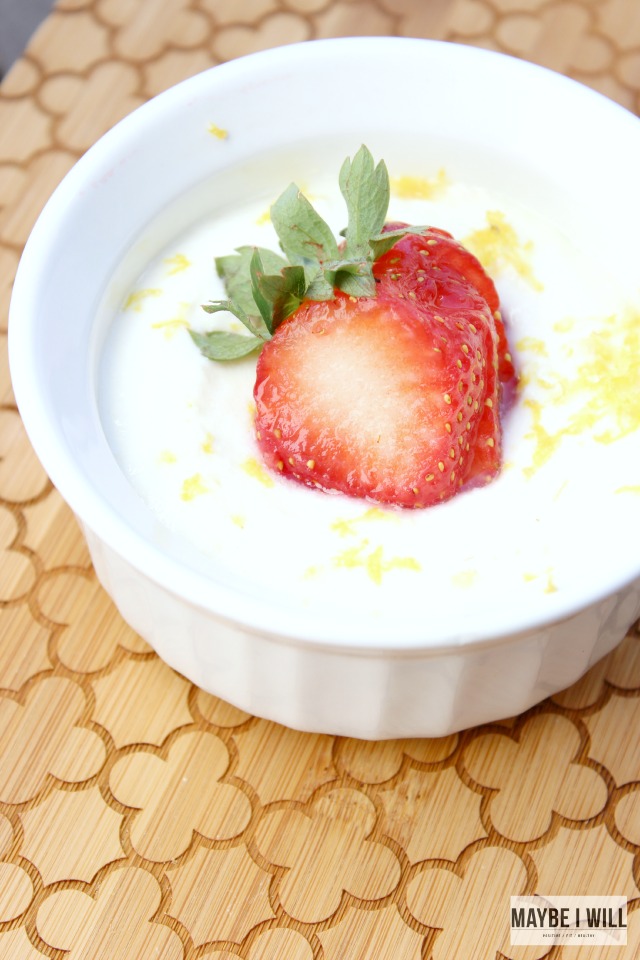 Lemon Ricotta Sinless Dessert 
Andie Thueson
1/2 Cup Low Fat Ricotta Cheese
Zest of 1 Lemon
1/2 Lemon Squeezed
2-3 packets Pure Via Stevia
1 tsp sugar free french vanilla powdered coffee creamer
just blend and enjoy!
Feel Free to top with some fresh berries!
In the mood for some pumpkin goodness?!?! I've got you covered as well! This time of year it's very easy to be sucked into the pumpkin goodness vacuum and before you know if you've consumed enough calories to feed a small village…. Just sayn'. So if you are needing a kick of pumpkin yumminess this one is for you!
Greek Yogurt Pumpkin Pie 
Andie Thueson
1/2 C Fat Free Greek Yogurt
1/4 C Pure Pumpkin Puree
2-3 packets Pure Via Stevia
1 tsp Pumpkin Pie Spice
1/2 tsp cinnamon
1 tsp Sugar Free French Vanilla Powdered Coffee Creamer
Blend and Enjoy!! – I topped mine with some crushed up all bran!
Don't want to wait for Thanksgiving to get your candied sweet potato on! This is an almost daily treat for me! It's is the ultimate clean treat!! – This one technically will take you longer than 5 minutes! But if you're a meal prepper like me… it will only take you 5 minutes!!
Guiltless Clean Eating Candied Sweet Potatoes
Andie Thueson
1/2 Cup prepared baked sweet potato
2-3 packets Pure Via Stevia
1 tsp coconut oil
1 tsp cinnamon
reheat sweet potato and additional ingredients  in microwave for 45 -60 seconds at reduced 70% power – mix and enjoy!! Top with pecans!
Cottage cheese is a great source of protein!! The stuff is packed with it! But let's be honest sometimes it takes some help to gulp down… This apple cinnamon concoction is one of my favorite go to's when I need an apple treat and a punch of protein! Don't knock this one till you try it folks! 🙂
Apple Cinnamon Cottage Cheese
Andie Thueson
1/2 C 1% Cottage Cheese
2-3 packets of Pure Via Stevia
1 Small Apple Cored and cubed
1 tsp cinnamon
Mix it up and enjoy!!!
Now for my chocolate loving peeps!! I did not want to let you down! Chocolate is the hardest one to find a worthy substitute for! When I'm craving chocolate I need chocolate and usually not of the healthy variety! This one never disappoints and is my new go to chocolate remedy!
Healthy Chocolate Mousse
Andie Thueson
1 TBS Coconut Oil
1 tsp raw cocoa powder
1/4 C Low Fat Ricotta Cheese
2 TBS TruWhip
2-3 packets Pure Via Stevia
Melt oil and cocoa in microwave for 30-45 seconds at 70% reduced power until well combined and melted then fold in ricotta, Pure Via, and TruWhip -then enjoy!!!
Well there you have it! 5 quick and easy treats that are designed to save you from even the craziest craving! All this goodness is made possible with delightfully natural sugar substitute Pure Via! Pure Via adds just the right amount of sweetness and goodness without the guilt! Where can you get yourself some?!? Head over to Walmart with this awesome Pure Via Coupon (available while supplies last) to save you some green and pick yourself up some!!
And for those paying close attention… Did you notice Jewel is on the cover of the box in the first pic??!? What does Jewel have to do with Pure Via you might ask? – She is offering a free music download and a digital copy of her Cookbook! Featuring more yummy Pure Via recipes! — So go check it out and snag your copy right away! HERE!
What are some of your favorite snacks in a pinch!?! I love to hear your ideas! 🙂