Spooky Black Bean Dip Cups
These Spooky Black Bean Dip Cups are so fun and perfect for Halloween! You can make them from scratch or totally cheat and buy all the ingredients!
Can you believe Halloween is just around the corner?!? This year is flying by! There is just something about Halloween that I absolutely adore. It seems for one night my childhood is recalled and there is magic in the air. As I take my kids out for trick o treating and school Halloween carnivals you cannot help but feel alive with the magic and just the right hint of mischief in the air.
As a health and fitness blogger the sheer amount of candy involved in this blessed day is crazy! And let's not get started on all the yummy baking! Halloween is for fun and treats all in moderation of course…
But I decided this year I would come up with a fun and kid friendly easy to throw together and look like one of "those" Moms healthy treat! These spooky bean dip cups can be thrown together easy peasy from scratch or you can totally fake it and buy everything and put them together- either way you'll be sure to impress! 😉 I won't tell anyone if you choose not to make these from scratch!
Aren't they just the cutest little spooky bean dip cups ever!
These cute little spooky bean dip cups are so easy to make you'll flip!
Spooky Bean Dip Cups
Ingredients
For Black Bean Dip Layer

2

Cans Low Sodium Black Beans - rinsed and drained

Juice of 1 Lime

1

Tsp

Garlic Salt

1

Tsp

Cumin

1

Tsp

Paprika

1/2

Tsp

Chili Powder

Splash of Milk - Just to help incorporate

For Guacamole Layer

3

Ripe Avocados

1/2

a Lime Squeezed

1-2

dashes hot sauce

1

tsp

garlic salt

pepper to taste

1/2

tsp

cumin
Instructions
To make black bean dip layer: mix listed ingredients in Blender until creamy and dreamy looking!

To make guacamole layer: mix ingredients in bowl with fork until desired consistency.

To assemble cups place black beans down first then layer with guacamole and top with shredded cheese. To make point ears use baby peppers and cut to correct shape

Really this is the easiest recipe ever! Serve with fresh veggies and chips!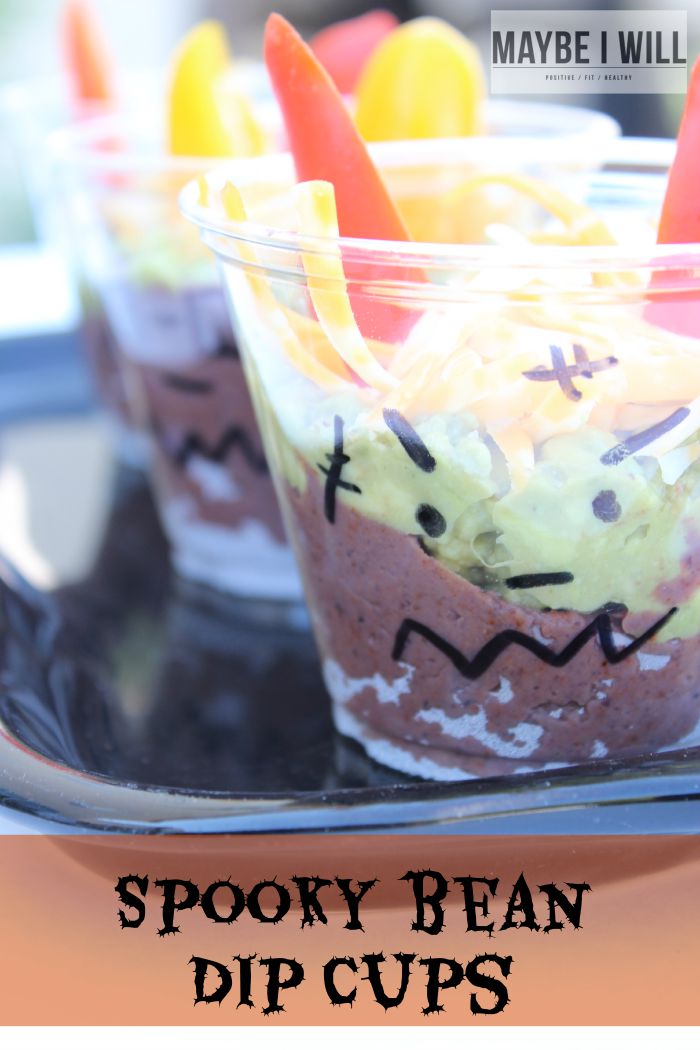 My kids devoured these and were kind of confused as to why I was making Halloween treats in September…. My 4 yr old even put on her "costume" and was all ready to go trick o' treating! It was a hoot! She was a little disappointed to find out she would have to wait a bit longer…
Raise your hand in the air if you are more than a little excited about Halloween! Well here are even more fun ideas to help you get all ready for the upcoming holiday all party of the amazing 30 Days of Halloween with Cupcake Dairies Blog so follow along for yummy treats and fun printables!