Strawberry Banana Pudding Cake
Whip It Up Wednesday!!!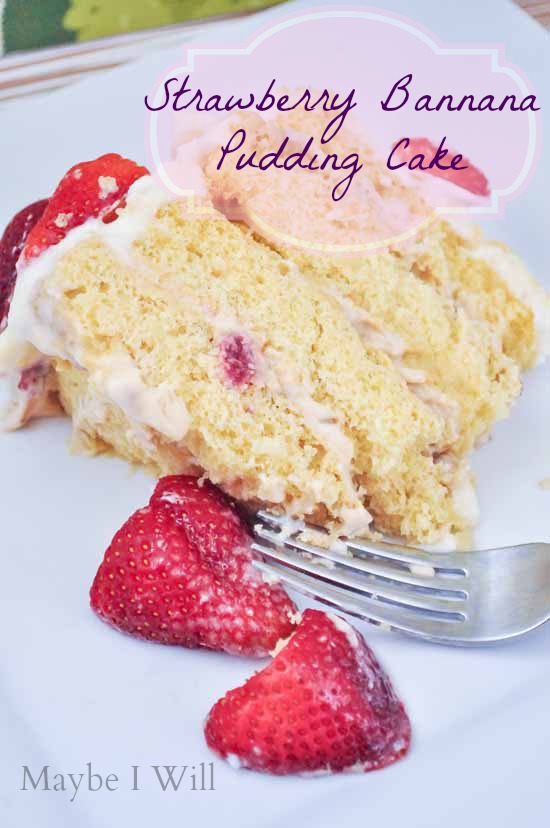 I am feeling old people! My oldest is nine, I got an email inviting me to find other available seniors in the area, and when I went to the make up counter the lady suggested I get a "lifting" make-up!! I realize that getting old happens wether we like it or not! But it seems like yesterday I was giving birth to my first baby, a sweet little girl. And now she is 9 and heading full blast into her "Tweens". She loves One Direction and loves talking about how cute the blond one is… I can never remember his name, is it Niall???
Anywho to make her day special I whipped up an amazingly decadent cake… (maybe it was to make me feel better about feeling old?… It really is a coin toss peeps! ) Back when I was young I worked as an assistant photographer for an Amazing Photographer, Amy Loren in AZ. We loved working together and she is still one of my dear friends to this day. The wedding cake of the late nineties and early 00's was a yellow cake with this amazing strawberry/banana pudding filling. It was everywhere and every wedding seemed to serve a variation of this concoction. Amy and I loved eating this cake on our breaks!!! It was worth the nine hours of craziness!!
So after I met and married my sweetie and actually started to really bake I hit my test kitchen (at the time our small apartment ) and came up with my version of this tasty cake! It has been my secret go to cake for years!!!
Strawberry-Banana Pudding Cake
Andie Thueson
1 Box of Yellow Cake Mix – Follow Directions and Cook in Two prepared 9″ Round Pans
I Church up my cake mix by adding one extra egg than called for and using butter instead of oil and milk instead of Water — This will rock your world!! These small tweaks make a world of difference!!!
Once cake is baked and cooled make Pudding Filling
1 Large Box Vanilla Pudding
I 1/2 C Heavy Cream
1 1/2 C Milk
1 Cup Strawberries Hulled and Quartered
1 Cup Bananas Sliced and Quarted
1 tsp Vanilla
1 tsp Rum Extract — this is the secret ingredient — Gives an awesome buttery rich flavor –AMAZING!
Combine pudding mix, heavy cream, milk, strawberries, bananas, vanilla and rum extract in Mixer for 3-5 Minutes until rich and creamy then place in Fridge to Set.
Cut Cake Round in Half so that you have 4 equal sized cakes
Place Pudding Mixture on Bottom then Layer Cake then Pudding .. repeating until completed Top Layer should be uncovered.
White Chocolate Ganache Frosting
1 bag White Chocolate Chips
1 Cup Heavy Cream
2 Cups Powdered Sugar
Place in Medium Bowl and Cover with Heavy Cream (approx 1 Cup) — I really need to measure!!
Place in Microwave and Heat for 30 Sec on reduced power (70%) Generally I keep checking on it and repeat the process until chocolate just melted and glossy looking.
Then gently fold in 1-2 Cups Powdered Sugar until desired consistency.
Then Frost Your Lovely Cake, Decorate with Fresh Strawberries and ENJOY!!!!
The Adorable 9 year old!!!