Make It Monday!
If you have been following along at home you might have noticed a complete lack of "crafty" type posts! It has been awhile since I have dusted off my crafting pants and got to work! Christmas was crazy! And my husband recently accepted a new position with a new company which will include a big move from my little town in Idaho to California! So to say I have been bogged down by change is a bit of an understatement! I have been processing and getting myself mentally prepared for such a change. My husband will live in California and commute home monthly…while I stay in Idaho with our kids, so they can finish the school year. Oh and we have a house to sell. So this will be a very crazy time for me! With all this going on and it being a new year and resolution time! My hubs and I decided it was time to get back on the Dave Ramsey band wagon and stick to a budget and go back to the simple but super effective envelope system! Kelly and I are both spenders. Typically one in the marriage is the saver and the other is the spender… I am super geeky and I have all kinds of tracking spreadsheets, but when it comes right down to it we are both spenders! We have wine taste and beer money. So we do much better when will dial it down and stick to a budget! You would think it would be restrictive and NO fun! But it really can be quite freeing to have control over your money and tell it where to go instead of wondering where it went…
So back to my reappearance to my traditional Make It Monday Posts! I started with a super fun and super easy churched up Envelope System! There are so many fun ones on Etsy but they can costs some $$$.. And in the name of saving money I designed my own! Complete with printable budget tracking sheets. You're Welcome!
Get your printable sheets
HERE
Trim to the size of the Envelope you purchased. I just bought a box of standard size envelopes at Dollar Tree
Attach the Sheets with Washi Tape that way when you have completed a sheet you can easily swap it out with a new sheet without having to do whole lot of work! 
I had these cute little Project Life Mini Envelopes in my stash. They are the perfect dividers! 
 Then just label your envelopes for the areas of your budget where you have decided to stick to cash. This is completely up to you! We decided to stick to cash in the more discretionary areas of our budget, such as Food, Personal Items. Entertainment, Clothes, and Gifts. It's nice to have a catch all such as "Miscellaneous" You can find these envelopes at any craft store.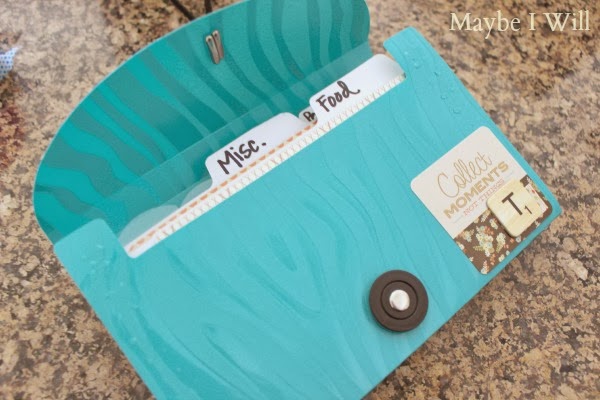 I found this super cute coupon organizer at Dollar Tree as well! It fits the envelopes perfectly!!! Then I churched it up a little, with some of my scrapbook stash! 
Are you unclear on What exactly the Envelope System Is!?? Check out this great article that explains how the system works!!
HERE
Do you use the Dave Ramsey's system? Are you lover or a hater of it?!?!