Simple + Delicious Carrot Cake Dip – Sure To Be a Hit!
This post contains affiliate links; I earn a small commission when you click on the links and make a purchase.
After almost 22 years of marriage, my hubs and I are still so much in love!
We, like every other normal, healthy couple on the planet, drive each other crazy, but at the end of the day, He is mine, and I am His. We are in this together through the good and the bad.
One thing in particular that drives Kelly completely bonkers, and his absolute biggest pet peeve, is the mess I make when I cook.
I agree it's not pretty folks, especially when I am in my "creative" mode. In creative mode, there is no recipe or script, just me going off a dash of this and a little bit of that. Leaving everything all over the counter and cabinets open just in case I need to add a little bit more or this or a little bit more that. This cathartic and messy process is where some of my best recipes have found their origins.
As you can imagine, the aftermath of my creative process is a mess!! If it is at all possible, I do try to spare Kelly of the cleanup. I try to get it taken care of before he gets home so it won't bug him. But sometimes, he is forced to help me with my " creative dirty" work.
I am so thankful that he does! Because clean-up is so much easier with a little help! And nothing is sexier than a man with dish soap hands 😉
One of my best creations to date came from one of these messy creative sessions – the idea of a deconstructed carrot cake (one of my faves) that could be easily shared at a party, like a sweet dip. So the idea took root, and after a few attempts, I came up with the perfect carrot cake dip! It is all the things you love about carrot cake but without all the hours and hours of baking. I love to make this at Easter brunch, spring parties, and girls' nights. It is so perfect dessert dip for this time of year and really any time of year! This creamy dip is a home run any time of year with its tasty flavors of carrot cake; it is an awesome go-to sweet treat.
Carrot Cake Dip Recipe
This Carrot Cake Dip is amazing, do not be surprised if you find yourself licking the bowl! (No judgment here!)
Ingredients
1 8

oz

cream cheese softened

1/4

C

Heavy Cream

3/4

C

Powdered Sugar

1

Cup

Carrot Cake Mix

1

Cup

Shredded Carrots

1

Cup

Crushed Pineapple w/juices

1

Cup

Coconut Flakes

1

tsp

Vanilla Extract
Instructions
Cream together the first three ingredients

Mix remaining ingredients, then serve at room temperature with graham crackers or other sweet crackers.
Nutrition Facts
Carrot Cake Dip Recipe
Amount Per Serving (2 TBS)
Calories 193
Calories from Fat 99
% Daily Value*
Fat 11g17%
Cholesterol 20mg7%
Sodium 166mg7%
Potassium 105mg3%
Carbohydrates 23g8%
Protein 2g4%
Vitamin A 1613IU32%
Vitamin C 2mg2%
Calcium 56mg6%
Iron 1mg6%
* Percent Daily Values are based on a 2000 calorie diet.
Making this dip is a total breeze and can be whipped up in less than 10 minutes, so if you need to bring a show stopper and you're short of time, this is it! Soften your cream cheese for a couple of hours by leaving it sitting on your counter. If you, like me, sometimes forget to take the cream cheese out in time – just remove the wrapper and place it on a plate, and microwave for 30-60 seconds at 50% power. That usually does the trick.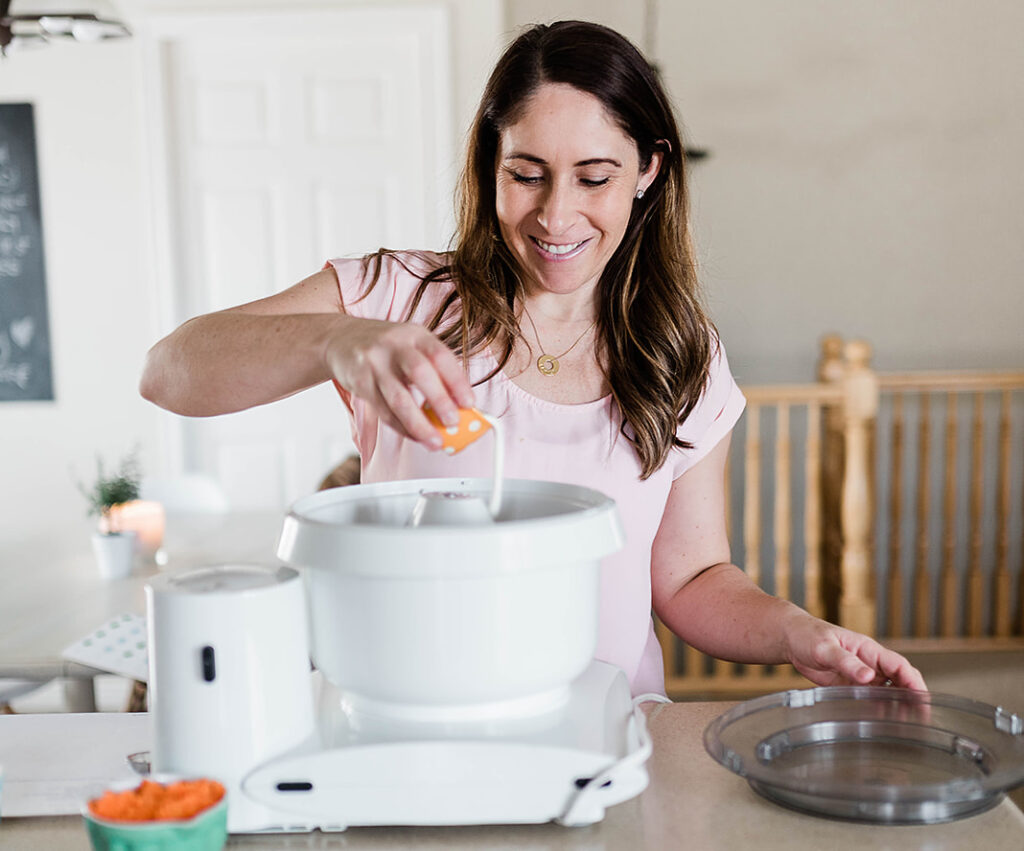 Slowly incorporate all other ingredients into your stand mixer. For grating your carrots, you can use a food processor or a normal cheese grater. I liked my carrots grated super fine for this, so I use my cheese grater. 2-3 BIG carrots yield about 1 cup of grated carrots.
You'll want to add a bit of pineapple juice – so make sure you do not completely drain them!
It will look so good and creamy when it's ready to go, just bursting with all those delicious carrot cake flavor!
HOW TO SERVE CARROT CAKE DIP:
To serve top with some additional graham crackers and coconut, you could even add some grated carrots to the top for garnish. Serve chilled with graham crackers, nilla wafers, biscotti cookies, or any other sweet cracker or cookie you deem worthy!
How to store:
You may store this delicious cream cheese dip in an airtight container for up to one week. Allow to sit on the counter and soften for 30 minutes or so before serving.
Hope you love this easy carrot cake dip as much as we do!
Enjoy!!