How To Make The Best Instant Pot Hard Boiled Eggs
Confession Time:
I struggle with making hard-boiled eggs. 
On paper, it seems like it should be the easiest thing in the world to do. No big deal. You boil the water, you let them boil for a bit and then let them sit and then there are even several different hacks out there to try – add baking soda, add oil – all to help me create the perfect boiled egg.
But time and time again – my eggs were either over boiled, under boiled, and pretty much every time a disaster to peel!!
No wonder we have seen a surge in the pre hardboiled already shelled egg market – the whole process is a pain in the bum! 
Enter my bright and shiny new Instant Pot… 
Let's just say to make a long story short that I have finally drunk the Kool-aide and I am HOOKED!!! I finally understand the insane hysteria over them. The hype is legit and totally warranted! 
Best money EVER spent!!! So worth the investment! I pretty much am using my Instant Pot every night! 


So back to my main point and its a BIG and glorious one!! 
I am now getting PERFECT Instant Pot Hard Boiled EGGS every single dang time!!! 
I'm pretty sure angels were singing when I tried my first Instant Pot hard-boiled egg! It was perfectly cooked and the shell practically fell off – no weird dents and divets in my pretty hard boiled egg whites! 
Even a self-confessed egg boiling failure such as myself cannot screw these up!! 
The process is a complete breeze! I'll walk you through it! 
First, you'll pour one cup of water into the bottom of your Instant pot, then place the rack into your pot place the eggs on the rack, do as many as you want! I have done as little as four and as many as a dozen. 
Once you place the eggs in the pot – close the lid and ensure the vent is on "seal" hit the manual button and set the time for 4 minutes! That's IT!!! 
Now go read a chapter of your book, check your Facebook feed for a bit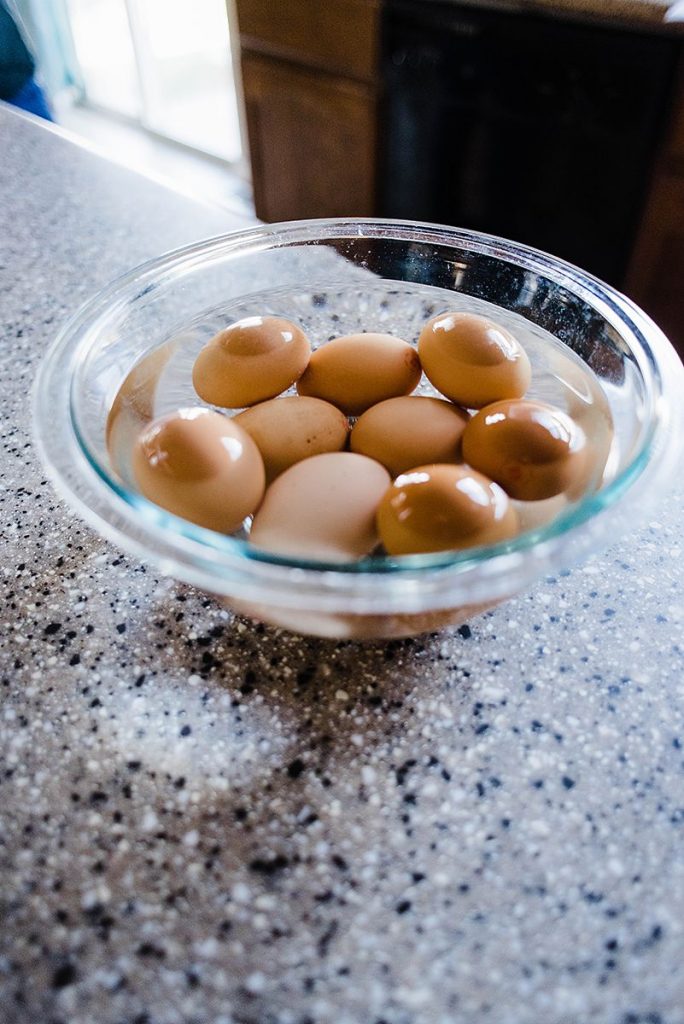 When the timer goes off – do a quick release – pushing the vent from seal to vent allowing the steam to release – once the steam flow stops take off the lid and remove the eggs and place them in an ice water bath. Wait for the eggs to cool down, usually, they are cooled completely in about 5 minutes. 
Now for the really mind-blowing part and what REALLY sold me on Instant Pot Hard Boiled Eggs. How freaking easy they are to peel!!! Life changing!! I will never ever go back; unless of course the power goes out and I am forced to use my little camp stove to supply hard boiled eggs for my family.
So baring any crazy natural catastrophy I a firmly and forever in the Instant Pot Hard Boiled Eggs making camp! 
I am so crazy obsessed with my Instant Pot – I have been playing a ton and coming up with all kinds of yummy and healthy recipes to share with you lovely people!! So stay tuned!! 
Perfect Instant Pot Hard Boiled Eggs
How to make perfect Instant Pot Hard Boiled Eggs every time - perfectly boiled and a cinch to peel!! You will never go back to making them the old-fashioned way.
Instructions
Pour 1 cup of water into the bottom of your Instant Pot.

Then add rack

Place the eggs on rack - I have been able to fit a full dozen pretty easily

Replace lid and make sure it is set to "SEAL" not "Vent"

Hit the "Manual" button and set the time for 4 minutes

Once timer goes off - do a quick release of pressure - I like to use a dishcloth to protect my hands

Remove eggs and place them in a large bowl filled with cold water and some ice to stop the cooking process.

Once the eggs have cooled approximately 5 minutes -you can eat them up!!



Nutrition Facts
Perfect Instant Pot Hard Boiled Eggs
Amount Per Serving
Calories 70
* Percent Daily Values are based on a 2000 calorie diet.