The BEST Old-Fashioned Bread Pudding You've EVER Had!
Old-Fashioned Bread Pudding, it's ooey gooey deliciousness and worth every stinking calorie!
Confession Time:
I have a HUGE weak spot for old-fashioned bread pudding. The sweet and gooey goodness does me in. Every. Single. Time. Although I'm a health and wellness blogger and pride myself on sharing healthy and nutritious recipes, this one ain't. So if you're looking for a healthy version of bread pudding, keep searching and good luck!
Although it may not pass for healthy, not even a tiny bit, it is definitely a dessert that's worth every single loving calorie.
And that's the reason I make this only one time a year! ????

So grab your stretchy pants and let's make this heavenly dessert. I guarantee you'll savor and love every delicious, warm, gooey bite.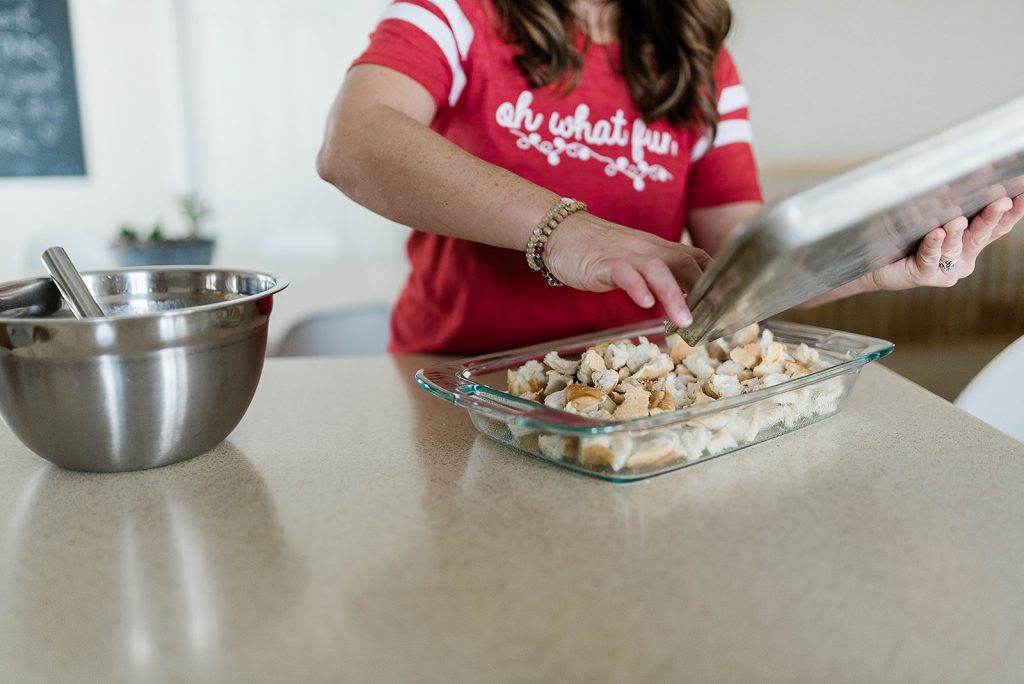 The first step is to "stale" your bread which can be done a couple of ways. You can tear up your bread into bite-size pieces and lay them out on a cookie sheet overnight or if you forgot to stale your bread you can throw into the oven at 250 degrees and let it cook for 10-15 minutes. The overnight way works best and delivers the best results but the other way works in a pinch.
Once the bread is nice and crusty and stale you can add it to a 9×13 baking dish as seen above.

I am not faking that smile, I am super excited about this. Add your sugar, milk, eggnog, eggs, vanilla, and spices all together in a big bowl and whisk until smooth.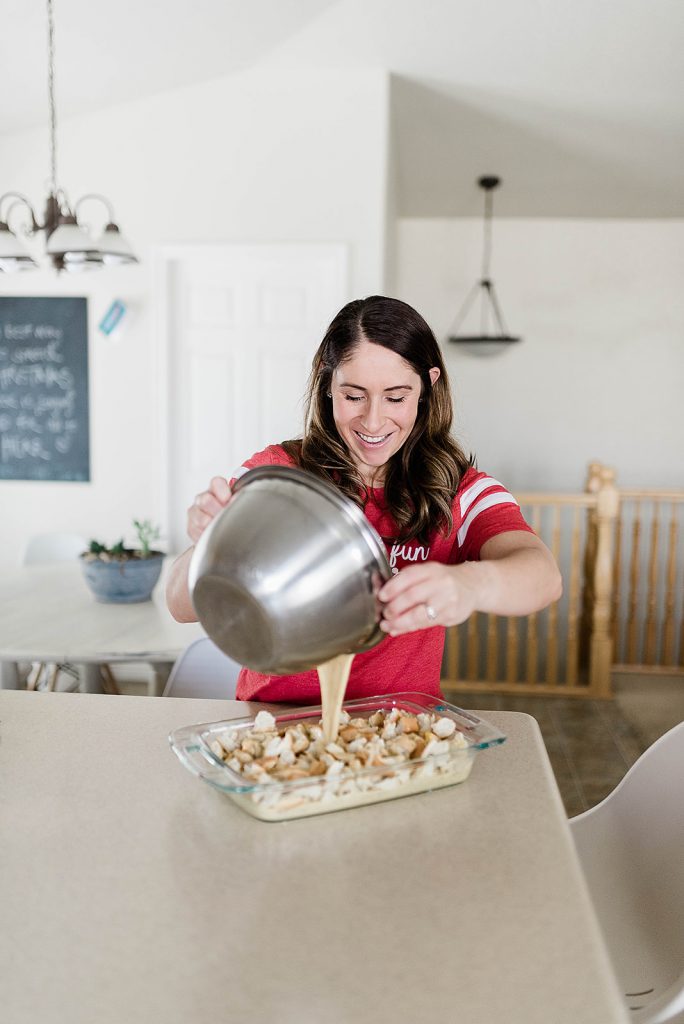 Once the ingredients are combined pour over the dry bread and let sit for 10-15 minutes. You can mix it a bit to make sure all your lovely bread is nice and coated.
Next, you'll mix together your brown sugar, pecans, and butter to make the topping that will melt and make the perfect gooey top!
Coat the top of your bread pudding with your mixture and just admire how flipping good it's starting to look. Now comes the hardest and worst part – putting it in the oven and having to wait 35-45 minutes for it to cook. Go turn on a Hallmark movie and get lost in the latest adventures of an overworked woman who hasn't had a chance to fall in love and just happens to meet the perfect man weeks before Christmas.
During the last few minutes of baking, you can make the sauce. Melt the butter and add sugar until well dissolved. Then whisk in the egg quickly because if you don't you might end up with very sweet scrambled eggs which would be extremely sad. Once mixed remove from heat and add your vanilla and rum extract or real rum if you happen to have it on hand. I'm not a drinker so I opted for the extract which still provides a nice rich buttery goodness.

Then comes the pour. Come on, if you didn't drool just a bit then we can't be friends. HA!
Just wanted to throw this photo out there as well, cause, come on…look at the beauty of this! Now comes my favorite part–digging in! This dessert, in my humble opinion, is best served warm with a dollop of fresh whipped cream. It's also acceptable to eat cold, but trust me warm and gooey is where it's at.
Old-Fashioned Bread Pudding
The ooey gooey bread pudding of your dreams. 
Ingredients
For The Bread Pudding
2

Cups

Sugar

5

Eggs

1

Cup

Milk

1

Cup

Eggnog

2

Tsp

Vanilla

1

Loaf

French Bread

1

TBS

Cinnamon

1

Tsp

Nutmeg
For the Brown Sugar Topping
1

Cup

Brown Sugar

1/4

Cup

Butter

1/2 Stick

1

Cup

Pecans

Chopped
For The Sauce
1

Cup

Sugar

1

Egg

Beaten

1/2

Cup

Butter

1 Stick

2

Tsp

Vanilla

1

Tsp

Rum Extract
Instructions
For The Bread Pudding
Tear 1 loaf french bread into tiny bite-size pieces and let stale overnight. When ready, add stale bread to 9x13 pan


Mix together sugar, eggs, eggnog and, milk in a bowl. Add vanilla, cinnamon, and nutmeg. 

Pour mixture over stale bread and let sit for 10-15 minutes stir a bit to ensure bread is well coated. 
Brown Sugar Crumble
Mix together brown sugar softened butter and pecans. Spread mixture over bread pudding 

Bake at 350 degrees for 35-45 minutes 
Sauce
 During the last few minutes of baking, melt butter then add sugar until dissolved. Add beaten egg and whisk together quickly over medium heat. Remove from heat and add vanilla and rum extract. 

There are quite a few steps with this recipe so it's a bit time consuming but it is REALLY easy recipe and is sure to be a crowd pleaser. I always get asked for the recipe whenever I bring it to Christmas parties or when I have guests over. It is truly my favorite Christmas treat and one that I look forward to the most every year. It has definitely become a Thueson family tradition.