Savory Rosemary Roasted Butternut Squash With Crispy Bacon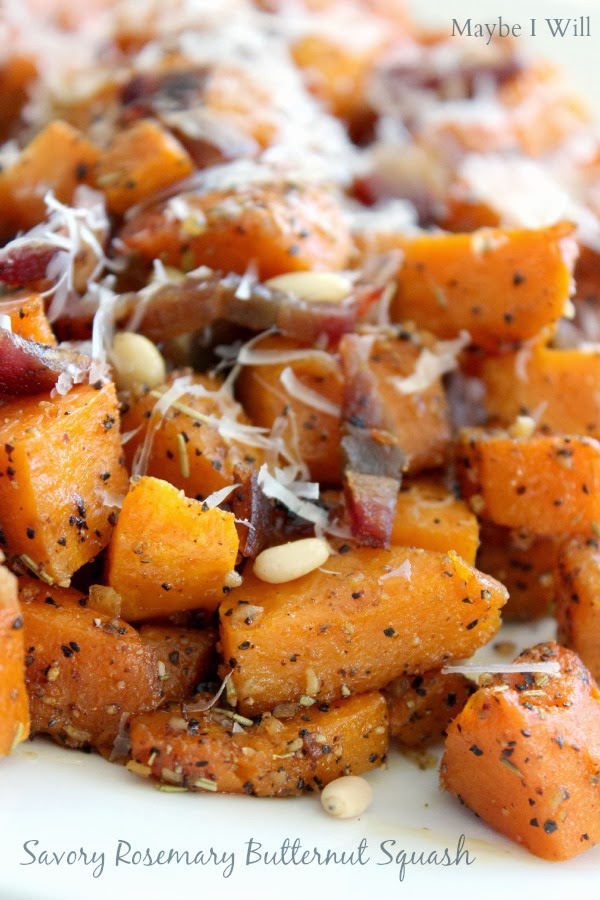 Every year my husband and I host an annual Christmas party for our friends. It has become one of the things we look forward to most of all at Christmas! Kelly and I both love to cook, we whip up super fancy smancy food that we normally don't make at other times. It's kinda of our chance to show off our culinary chops so to speak. Our friends greatly appreciate a night out, without kiddos. And they know when they come they'll eat good! A couple years back we made this super delicious Crunchy Rosemary Potato recipe from Tyler Florence. The recipe as is is pretty delicious, but of course it is… it's a Tyler Florence recipe.
So when I had the opportunity to try
Butter Flavored Olive Oil
I instantly thought about how good it would be paired with this recipe! I am known for my tweaking! That being said, I made a couple other little changes to make it a little bit more figure friendly. Not to brag, but my tweaks are pretty amazing! So flippin' good! The butter flavored olive oil is AWESOME… it added a great depth to the flavors and a buttery richness to the robust flavors of the garlic, rosemary and bacon. Man my mouth is watering while I'm typing this ( I might have to go reheat a plate of some right now) but I digress… It's soo good you don't need to wait for a fancy smancy party make it for a tuesday night and your family will thank you!
Savory Rosemary Butternut Squash
Ingredients
1 3

lb

Butternut Squash

2

TBS

Butter Flavored Olive Oil

1

TBS

Rosemary Garlic Seasoning

kosher salt & pepper to taste

1/4

Cup

toasted pine nuts

2

Strips

center cut bacon

1/4

Cup

freshly grated Parmesan cheese
Instructions
Cut and cube butternut squash, then place in bowl toss with olive oil and seasonings place on cookie sheet and bake at 400 degrees for 30-45 minutes -- halfway through baking process remove from oven and toss pan to re-coat and flip squash
Nutrition Facts
Savory Rosemary Butternut Squash
Amount Per Serving
Calories 1579
Calories from Fat 693
% Daily Value*
Fat 77g118%
Cholesterol 46mg15%
Sodium 767mg33%
Potassium 6718mg192%
Carbohydrates 219g73%
Protein 37g74%
Vitamin A 193151IU3863%
Vitamin C 383mg464%
Calcium 1200mg120%
Iron 16mg89%
* Percent Daily Values are based on a 2000 calorie diet.
To prepare butternut squash remove ends and use a peeler to remove thick outer skin  then cut into bite size pieces using a sharp knife.
Toss that yummy squash in olive oil and seasonings!
Man o' Man my mouth is watering again! Seriously peeps this stuff is good!
Seriously lets be honest Olive Oil + Butter, how in the world can you go wrong?!?! This stuff is pretty much my new fav!