Strawberry Cheesecake Greek Yogurt Parfait
This post brought to you by Fiber One. The content and opinions expressed below are that of Maybe I Will.
When you're cutting calories and sticking to a healthy eating plan, cheesecake is one of the first things to go. As much as I LOVE my cheesecake… it is one that I have had to forge a separation from in the name of being healthier. So instead of pounding a ginormous slice of cheesecake (which I admit I would love in all honesty) I thought I'd take the delightful new cheesecake bars from Fiber One and turn them into one satisfying and drool worthy treat! With using Greek Yogurt you 'll get a great dose of protein and the Fiber One Cheesecake bars provide 5 grams of Fiber! Yeah!! That a nutritional win!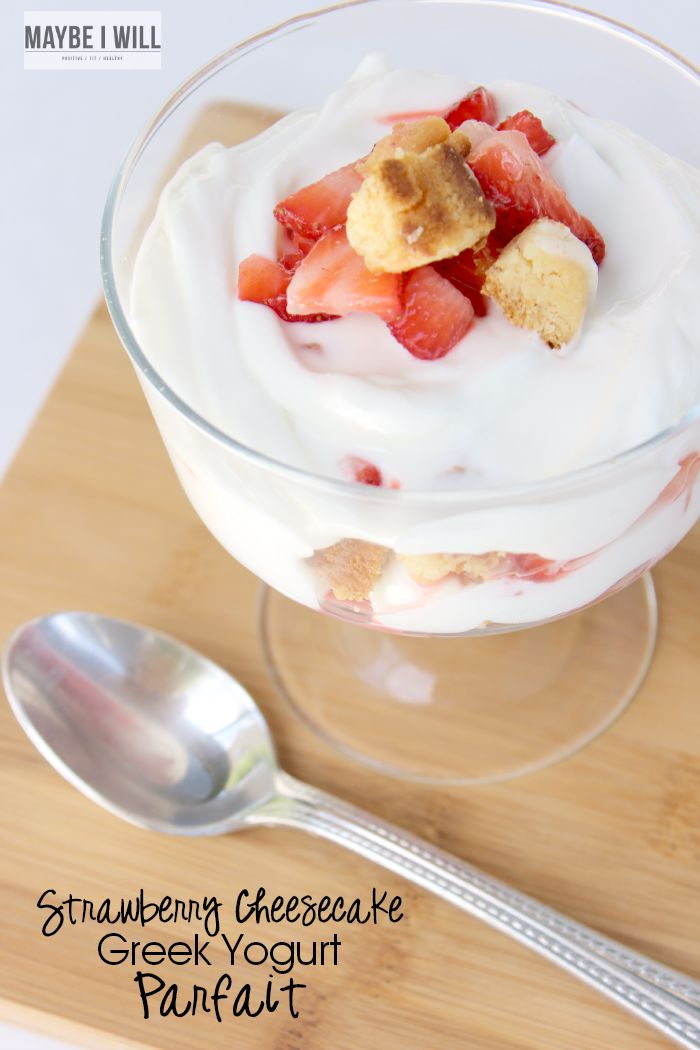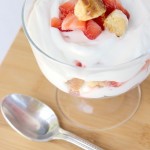 Strawberry Cheesecake Greek Yogurt Parfait
This Strawberry Cheesecake Greek Yogurt Parfait will ROCK your world! Its the BEST treat 4 when you're craving cheesecake & don't want to derail your progress!
Ingredients
Strawberry Cheesecake Greek Yogurt Parfait

Andie Thueson - Serves 1

1

Cup

Greek Yogurt

Stevia to Taste

1/2

a Lemon Squeezed

1/2

tsp

vanilla

1/2

tsp

strawberry extract

1/2

Cup

diced fresh strawberries

1

Fiber One Strawberry Cheesecake Bar
Instructions
Combine the first 5 ingredients and set aside, dice Fiber One Cheesecake bar, and strawberries in a parfait dish start with a layer of strawberries and diced cheesecake bar, then spoon Greek yogurt mixture over the strawberries and cheesecake, continue layering ingredients finishing with some cheesecake and strawberries on top! Then Enjoy!
Nutrition Facts
Strawberry Cheesecake Greek Yogurt Parfait
Amount Per Serving
Calories 307
* Percent Daily Values are based on a 2000 calorie diet.
Trust me when I say this is one sinful tasting dessert… And you can down the entire thing without an ounce of guilt! With Fiber One Cheesecake Bars, you don't have to fight your instincts to fill your cheesecake cravings. And with only 150 calories, 6 grams fat, 5 grams fiber, 20% daily value of fiber you can have you cake and eat it too… just had to sorry
Did you know July 30th  was National Cheesecake Day? But why should this amazingly decadent, creamy, dreamy treat only have one day dedicated to it? Fiber One thinks not and to celebrate Fiber One is hosting a Fiber One Cheesecake Appreciation Month Sweepstakes on Facebook through August to help everyone participate in the month-long cheesecake celebration! There will be 1-2 winners per day, plus a Grand Prize winner! Wahoo!! All you need to do is follow the link on their Facebook  page and pin a tasty Cheesecake image either one of the tasty pics on their site or one of your very own to win!! Got to love a cheesecake celebration! I'd love to win some more boxes since they disappeared in record time at my place…
Which flavor are you most excited to try? The Strawberry Cheesecake or the Salted Caramel? (For the record both are drool worthy they are super tasty in the above recipe or plain on their OWN!)