Trophy Skin Review, Everything You Need To Know!
This post contains affiliate links; I earn a small commission when you click on the links and make a purchase.
As I get older, my skin and many other body parts are starting to show the effect of the wonderful, ok not so wonderful, signs of aging. I am beginning to see more and more fine lines, age spots, brown spots, and wrinkles.
So like a dateless cheerleader a week before prom, I am always searching for ANY and all products that will help me pass for not a day over 35. I am nothing if not realistic.
So when Trophy Skin contacted me, I was elated to try their MicrodermMD at-home system a whirl. In today's post, I will be diving into this at-home microdermabrasion treatment system and giving you my full and honest Trophy Skin Review!
The Trophy Skin Microderm MD is a portable DIY home microdermabrasion system that delivers results on par with clinical treatments over time yet is basic enough for novice users to operate. You don't have to be a professional to get great results. The MicrodermMD is super simple with just a little bit of practice, especially while using AUTO MODE. It takes only 5 minutes to get back that smooth, glowing, and youthful-looking skin that is just below the surface!
Attributed Benefits of Using This Handy Dandy Microdermabrasion Device:
Buffs Away Fine Lines and Wrinkles.
Reduces Signs of Sun Damage and Age Spots.
Improves Skin Tone and Texture.
Gently Exfoliates and Sloughs Away Dead Cells.
Restores Radiance to Skin.
Save Hundreds (Even Thousands) of Dollars Compared to Spa Treatments
Ok, next question, what is microdermabrasion?
Microdermabrasion is a cosmetic procedure for the skin that involves the mechanical abrasion and removal of all or part of the stratum corneum (as by a high-pressure spray of granular crystals) and is used to rejuvenate the skin and to treat skin blemishes or imperfections (such as scars or wrinkles). –Webster's Dictionary
So in layman's terms, you are helping to slough off dead skin cells to reveal more youthful and vibrant skin!
All things I can get behind and support.
The Trophy Skin at home MicrodermMD kit comes with everything you need and is super easy to use. If you're new to these treatments, it will thoroughly walk you through the whole process, making it error-proof.
Before using Trophy Skin, I had never tried microdermabrasion, so I was a little nervous once I unpacked the box and started looking over all the tools. I was concerned about the pain level because it takes off dead skin after all.
Here's what will be included with your MicrodermMD:
Diamond Microdermabrasion – 3 treatment modes: guided Sensitive Mode, guided Auto Mode, and Manual Mode utilizing eight suction power levels.
MicrodermMD device
Standard Diamond Tip Wand (Diamond Head)
Pore Extraction Tip (With Suction Power)
Infusion Tip
100-pack Wool Filters
Power adapter
User manual
3 Treatment Modes – Auto, Sensitive & Manual
60-day guarantee
And I was concerned about the time commitment because I'm inherently lazy when it comes to skincare, and if it takes too long, I'm out.
Both of these issues were non-starters! Although it is intense, the process was pain-free and even better; it was QUICK – the whole process takes 5-10 minutes tops! If I had to do it every night, that might be a deal-breaker, but I can handle an extra 5-10 minutes to my nightly beauty routine three times a week, especially with such remarkable results.
After selecting the auto setting, the light-up LCD screen makes it easy to follow along and guides you through the entire process. The little face lights up with arrows showing where to apply pressure and what direction to go for each zone. It will then beep at you when it is time to switch to a new area – helping you not overwork any one section. Once you become more confident, you can switch to manual mode and spend some extra time on an area you feel needs a little more TLC.
Although I focused on my entire face, you can use the tool on many different areas beyond your face, like your neck, chest, hands, legs, arms, feet. Microdermabrasion can help with stretch marks and any scarring you may have.
If you ever have any questions, they've got you covered. Staff estheticians are available via online chat, email, or phone to answer your questions and provide treatment advice.
After using the tool pretty regularly for the last month, I have been quite impressed. I noticed a difference in my skin's texture after the first treatment, which was pretty impressive, and after a couple of weeks, my skin's overall quality looks much better. It has been a great addition to my skincare routine. It gave my ordinarily dry skin a nice youthful glow, and many of my dark spots were gone!
I like the changes I have begun to see in my skin while using the Trophy Skin MicrodermMD system.
Ok soooo the following couple of pictures of me are downright awful, borderline blackmail material, but I share them with you so you can see the difference. Then you can decide if it's worth the investment for you.
Remember, these pics are with NO Makeup, right after working out.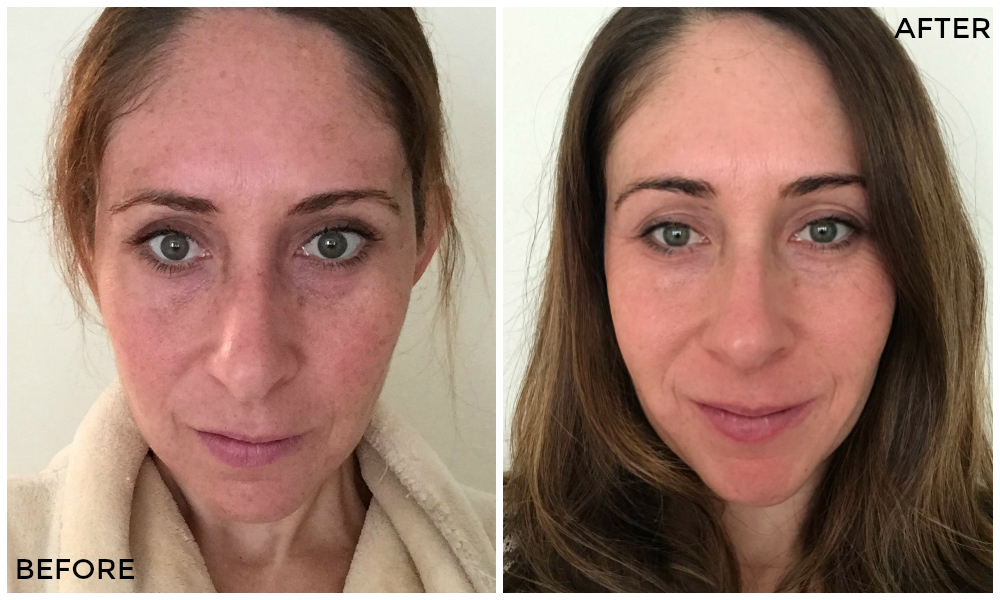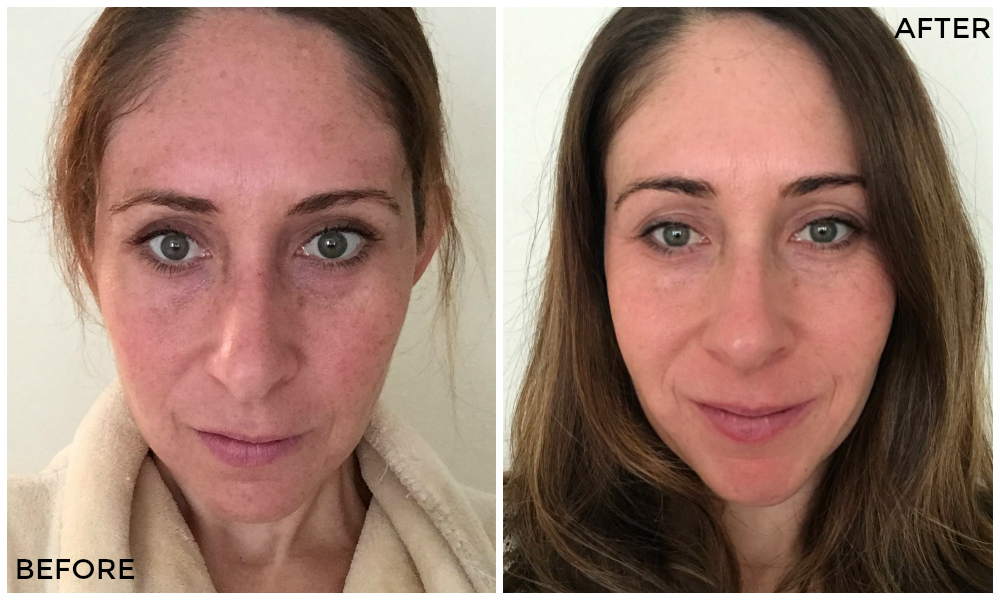 Pretty crazy, right! My skin looks brighter and more vibrant, for sure!
FAQ's I often get about my Trophy Skin Device
How often can I use trophy microdermabrasion?
Trophy Skin recommends using their skincare tools 2-3 times a week for the best results. So alternate days would be a great schedule to implement. * Never exceed three times a week as your skin may lose essential oils.
How often do you recommend the standard diamond tip be replaced?
 Trophy Skin recommends that the tips be replaced every 3-6 months!
How to use Trophy Skin microdermabrasion?

Thoroughly cleanse and dry your skin. Start with the automatic mode. I practiced on my arm before I used it on my face. Pull the skin taut with your free hand to allow the diamond tip to glide over the skin smoothly, following the prompts in the direction of movement. If the suction is too much at any time, you can adjust the suction level to where you are most comfortable.


Next, move the device to the next section, be careful not to hover on any spots because the suction could cause a scab. The entire process only takes about 1 -3minutes. Immediately after you do the treatment, wash and dry your skin. Then apply your usual skincare products.
Clean the cap and filter using the cleaning brush after using soap and set aside to dry. Remove the wool filter and replace it with a clean one so you'll be all set for next time.
Are there any skin conditions that would prevent usage of the Trophy Skin MicrodermMD?
Trophy Skin recommends consulting a doctor before using microdermabrasion technology if you have any of the following skin issues:
Active infection – herpes, warts
Active acne
Sunburn
Recent use of acidic topical agents
Recent chemical peel procedure
Uncontrolled diabetes
Eczema, dermatitis
Skin cancer
Vascular lesions
Rosacea
Tattoos
Pregnancy
Recent use of Accutane
Use of blood thinner medication
History of hypertrophic scarring or keloid formation
Telangiectasia/erythema may be worsened or brought out by skin exfoliation
I have been using my Trophy Skin Device for several months now, and I really enjoy it and look forward to busting it out. It helps me have healthy skin that glows without spending a ton of money on a facial.
To learn more about Trophy Skin, check out their website!
Let me know if you give it a try!