The Best Healthy Banana Cream Pie Protein Shake!
I am a sucker for a good banana cream pie. Oh, the creamy deliciousness. Much like many of my readers, I, too, am trying to up my daily protein and reduce the amount of sugar I intake. So I did what I normally do and am strangely good at taking desserts we all crave and turning them into healthy protein shakes!
With this recipe, I captured the banana cream pie flavor of this classic dessert and transformed it into a tasty high protein shake you could enjoy more regularly. You're welcome, friends.
This simple and easy recipe can be a new quick "go-to" when you're craving the real thing.
Banana Cream Pie Protein Shake 
This healthy banana cream pie protein shake is take on the classically rich and decadent Banana Cream Pie is a swap you'll want to try!
Ingredients
1

Cup

Vanilla Unsweetened Almond Milk

1

Scoop Vanilla Protein Powder

1/2

medium banana –

you may use a frozen banana

1

Sheet low fat graham crackers

8-10

Ice Cubes or more based on desired consistency
Instructions
Place items in a blender, then blend and enjoy!
Nutrition Facts
Banana Cream Pie Protein Shake 
Amount Per Serving (1 g)
Calories 146
Calories from Fat 36
% Daily Value*
Fat 4g6%
Cholesterol 2mg1%
Sodium 414mg18%
Potassium 215mg6%
Carbohydrates 26g9%
Protein 3g6%
Vitamin A 38IU1%
Vitamin C 5mg6%
Calcium 308mg31%
Iron 1mg6%
* Percent Daily Values are based on a 2000 calorie diet.
Here are some easy swaps you can make to help cater to your dietary needs:
To make the recipe Paleo – opt for a grain-free graham cracker like Simple Mils Sweet Thins.
You could opt for coconut or regular milk if you are allergic to nuts.
If you don't have sugar-free banana cream pudding – you could opt out for artificial banana flavor extract and vanilla extract.
You could top with whipped cream and some graham cracker crumbs for a fun flourish.
If you wanted to increase the protein, you could add 1/4-1/2 cup greek yogurt or cottage cheese – this will obviously add more protein and increase the creaminess.
I love having a protein shake before a workout. Protein Shakes are a great way to fuel your body before or after a workout. For more information on proper ways to fuel your body when working out, check out my post, What To Eat Before and After a Workout A Powerful Guide For Optimal Results!
Picking the right protein powder when creating your protein shake is so important. Unfortunately, many supposedly healthy protein powder brands are filled with weird chemicals and many artificial ingredients that harm our bodies. Because it is marketed as a healthy product does not mean it is, so use caution, friends. I have listed my favorite options below- all taste fantastic and are organic, clean, and good for you!
MY FAVORITE CHOICES FOR HIGH-QUALITY PROTEIN POWDER:
Each Protein Powder I recommend has the highest quality ingredients, with no sketchy crap that many brands use.
So grab some spices and protein powder and blend up this delicious smoothie. You will not be disappointed!
For more delicious protein shake recipes, check out my eBook "52+ delicious Protein Shake Recipes!"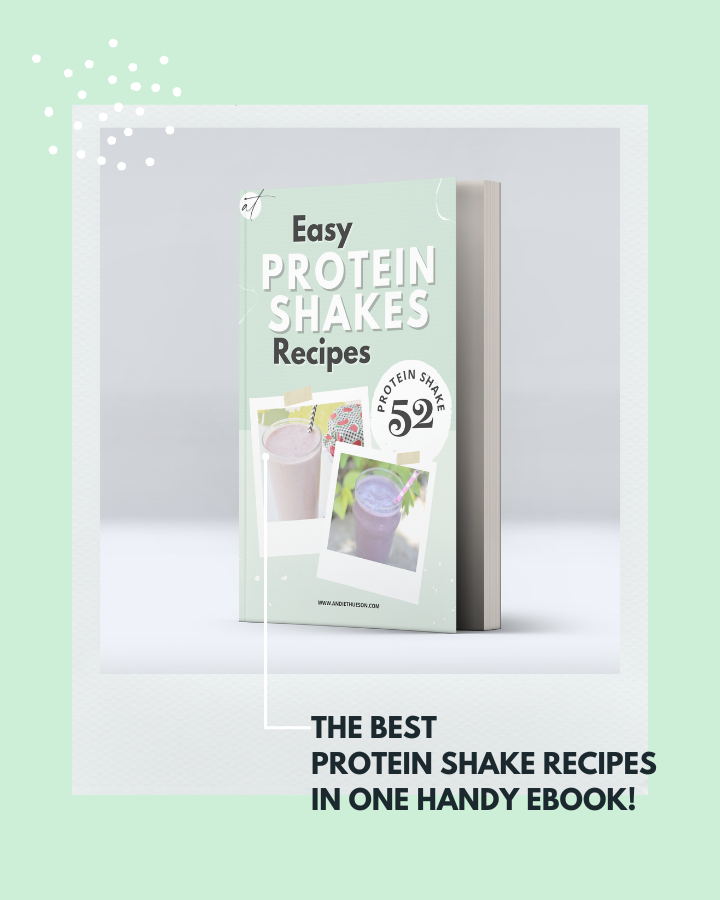 Protein Shake Recipe Book
Bust the boredom of protein shakes with this protein shake recipe book! Filled with over 52+ delicious protein shakes that you will love!
Happy blending!

A Girlfriend's Guide To Protein!
FREE WITH YOUR NAME AND EMAIL ADDRESS
Have you ever wondered why protein is such a big deal, in helping you lose weight? As a personal trainer and nutrition specialist, I see firsthand how much getting the right amount of protein can make all the difference! In my handy dandy FREE protein guide, I dive into how to calculate the right amount of protein for your body. I also share some of the easiest and yummiest ways to up your protein intake as a bonus!