The Best Chocolate No Bake Cookie Protein Shake
Did someone say No Bake Cookie Protein Shake?!
Every so often, I get a craving for an ooey-gooey melty and delicious No-Bake Cookie. You know the kind that you make on the stovetop with butter, oatmeal, chocolate, and the magic ingredient of peanut butter. Because let's face it, Peanut Butter makes everything better!!
What is so dangerous about no-bake cookies is that they are crazy simple to make… Usually, when I crave something sometimes the sheer effort and time it takes to make the treat is turn off enough… 😛 But not these magical gems. You can whip them up in no time flat. The most obnoxious part is waiting for them to "set up," but truth be told, that has not stopped me before.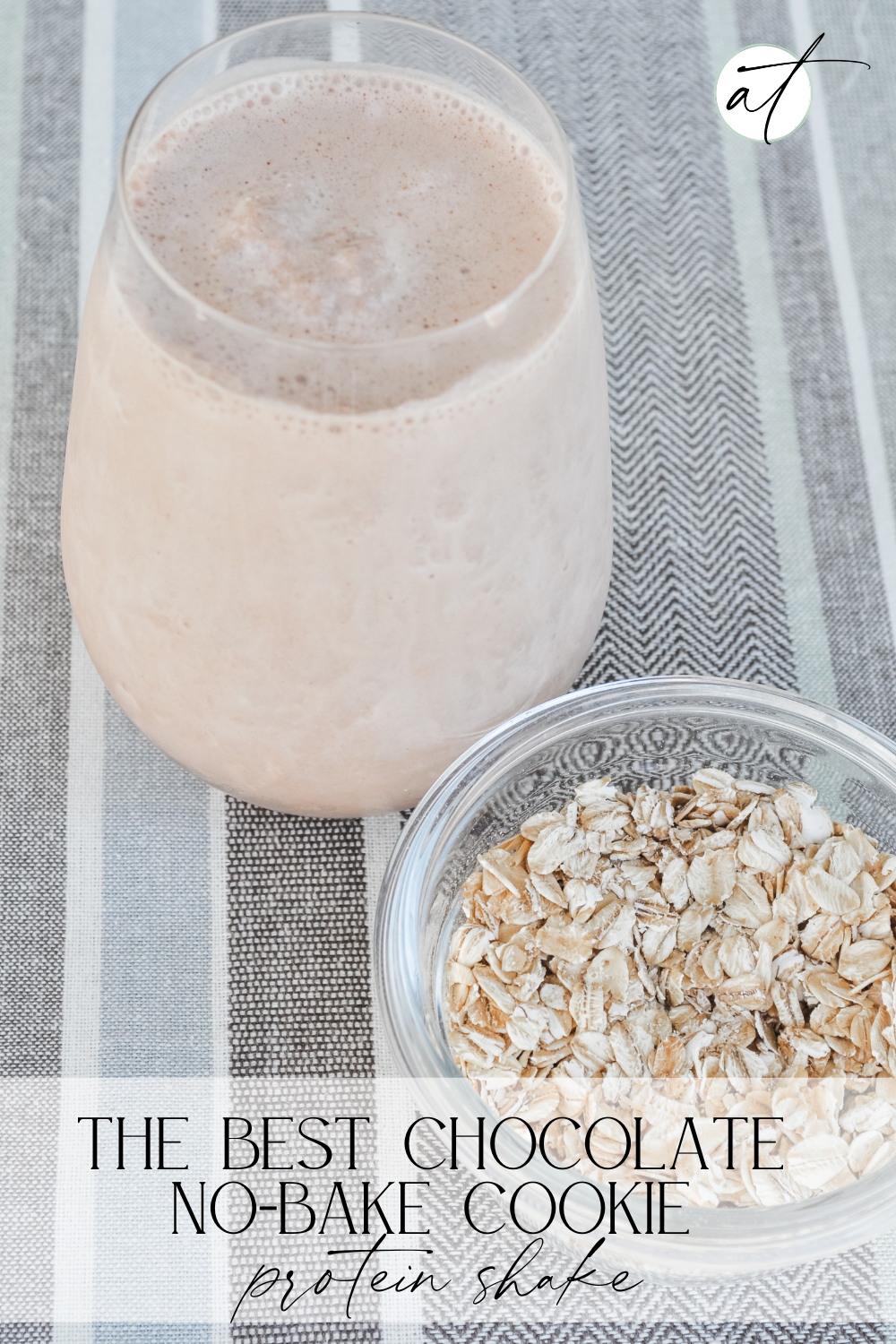 So when temptation strikes and I find myself rummaging the cabinets for the necessary ingredients – I stop, take a deep breath, and make this heavenly shake instead! It legit is so rich and creamy you'll think you're splurging! And as an added benefit, if you thought no-bake cookies were a breeze, this No-Bake Cookie Protein Shake is even easier. And it has way fewer calories. Plus, you can EAT the entire blender jar full, and you're only out 327 Calories! That my friend is winning!!
THE Best Chocolate No Bake Cookie Protein Shake
There is nothing better than an ooey gooey delicious no bake cookie, except maybe this chocolate no bake cookie protein shake -all the goodness minus the guilt
Ingredients
1

Cup

Unsweetened Vanilla Almond Milk

1

Scoop Chocolate Protein Powder

1

TBS

Vanilla Almond Coffee Creamer

1

TBS

unprocessed cocoa powder

1

TBS

Peanut Putter

1/4

Cup

Old Fashioned Oats

8-10

Ice Cubes depending on desired thickness
Instructions
Throw items in the blender and BLEND!
Nutrition Facts
THE Best Chocolate No Bake Cookie Protein Shake
Amount Per Serving
Calories 327
* Percent Daily Values are based on a 2000 calorie diet.
See, I told you it was a total cinch to throw together. And you will want to lick the blender for sure, just to ensure you get out every last tantalizing drop of creamy no-bake flavored goodness!
Check out these flavors!
These are my favorite Protein Powders:

A Girlfriend's Guide To Protein!
FREE WITH YOUR NAME AND EMAIL ADDRESS
Have you ever wondered why protein is such a big deal, in helping you lose weight? As a personal trainer and nutrition specialist, I see firsthand how much getting the right amount of protein can make all the difference! In my handy dandy FREE protein guide, I dive into how to calculate the right amount of protein for your body. I also share some of the easiest and yummiest ways to up your protein intake as a bonus!