7 Quick + Easy Tyson Grilled Chicken Strips Recipes
This post contains affiliate links; I earn a small commission when you click on the links and make a purchase.
If you have ever picked up any diet book or followed any fad diet, tuna is always at the top of the list of items you are encouraged to eat. "They" often tout it as the perfect way to sneak more protein into your daily life.
It makes sense. Tuna is packed with protein, a mighty 15 grams of protein per 2 oz serving. And it will only cost you 70 calories. Those are pretty impressive stats, friends, making tuna a total win to add to your meal and snack rotations.
But let's face it, tuna by itself can be a little bit meh. But the good news is that tuna is a blank palette and can be transformed entirely with a few simple ingredients. And if you are looking for a tuna recipe without mayonnaise because you are not a fan, then you, my friend, are in the RIGHT place. As a lover of tuna fish, I have decided to share a few of my favorite tuna recipes that I have continually turned to over the years to help me keep my tuna eating healthy and keep me on track with meeting my health and wellness goals. These three tuna-terrific recipes are easy healthy recipes that are great for a light lunch, snack, or even a simple healthy meal. I like to keep things simple and easy, and you will find all three of these recipes just that!
These recipes are so good they went VIRAL on Buzzfeed!
I love to cook! But let's be honest, making something delicious from scratch every night isn't always in the cards! With kids' practices, helping with homework, and life in general – Sometimes you need that handy dandy EASY button to help get dinner on the table fast. The easiest solution is grabbing takeout; no argument there! But that can get spendy and is not the healthiest of options for my little family. So when I am in a pinch and need to throw together dinner in a hurry, dinner is in the bag (see what I did there) with these 7 quick and easy Tysen Grilled Chicken Strips Recipes. These super simple recipes are all ready in less than 15 Minutes! No, think meals for the win!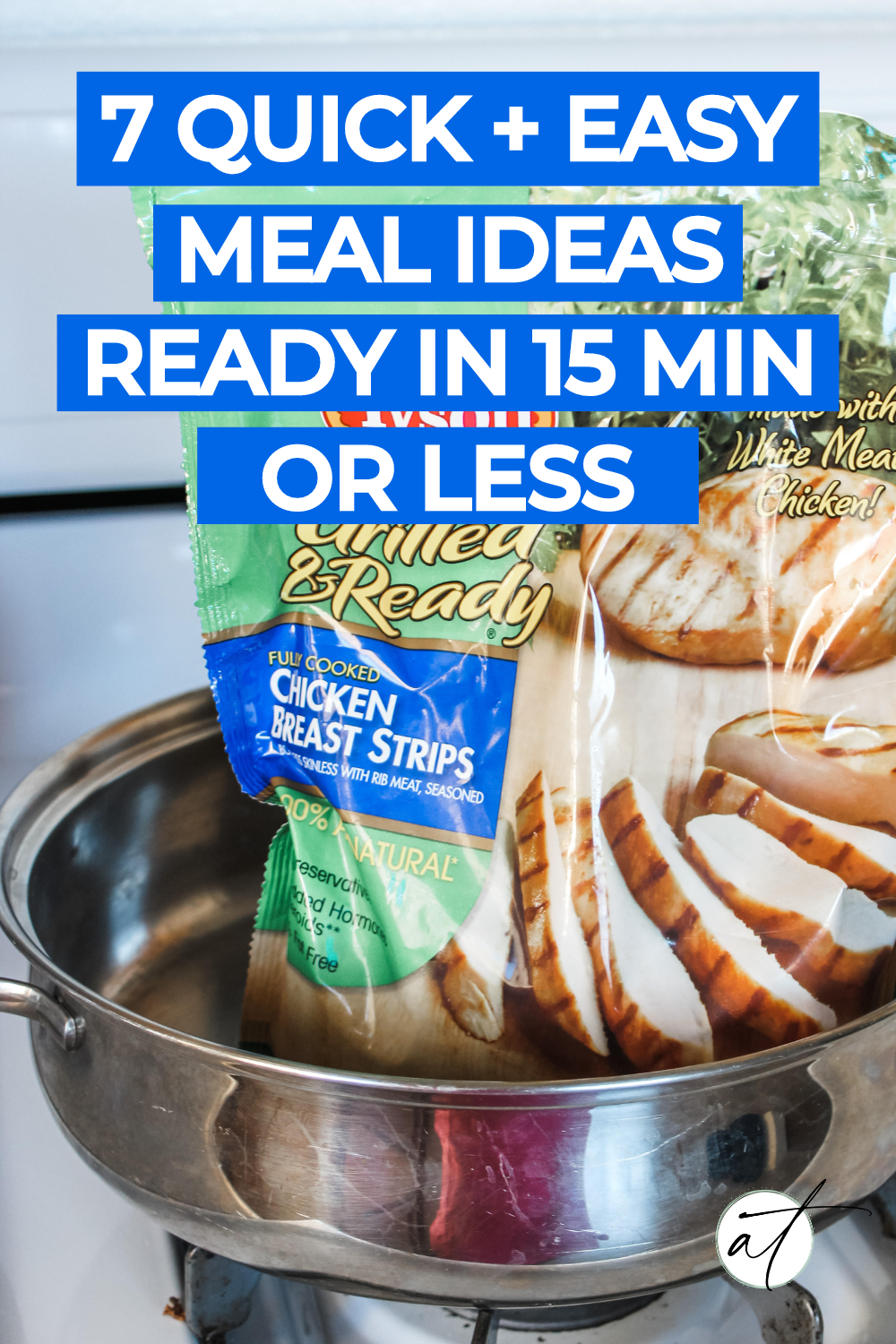 7 Quick + Easy Tyson Grilled Chicken Strips Recipes Ready In 15 Minutes
Fajitas: Tyson® Grilled & Ready® Fully Cooked Refrigerated Fajita Chicken Strips+ 1 Bag of Frozen Fajitas Veggies + 1 Pkt Fajita Seasonings or use this from scratch recipe.
Whip up a batch of guilt-free Mexican Haystacks and swap out the turkey for all ready prepped and ready Tyson® Grilled & Ready® Fully Cooked Refrigerated Fajita Chicken Strips!
BBQ Chicken Sandwiches – Heat up the grilled chicken strips with your favorite BBQ sauce and serve over buns with a bit of cheese and lettuce – My kids LOVE this one!
Cesaer Salad – Heat up chicken and serve on a fresh bed of romaine lettuce with freshly grated Parmesan cheese, croutons, and your favorite dressing! If your kids aren't salad eaters, use the same idea. Just put the ingredients in a wrap!
Chicken Quesadillas: It does not get any easier than that! These are always a hit at our place.
Chicken Alfredo: Tyson® Grilled & Ready® Fully Cooked Refrigerated Oven Roasted Diced Chicken Breast + Sauce + Noodles = dinner! My kids don't get this one very often, but they are sure jazzed when they do! I like to throw in some broccoli to sneak some veggies in there!
Chicken Stir Fry: Tyson® Grilled & Ready® Fully Cooked Refrigerated Fajita Chicken Strips + Frozen stir fry veggies + stir fry seasoning packet or use this made-from-scratch recipe
Well, there you have it! 7 quick and easy Tyson grilled chicken strips recipes that you can throw together in 15 minutes or less! All delicious and EASY!! I love having bags of ready-made grilled chicken strips handy for this very reason. Life is BUSY, and getting a healthy meal ready to go can be tough. I am all about shortcuts, and these premade chicken strips are super helpful. If you are opposed to bagged chicken, my husband will also smoke chicken breasts on Sundays, and then I can make any of these easy meals with the meal-prepped chicken.
I am all about quick and easy meals; here are some more of our family's favorite recipes!
Good luck, friends, and happy cooking!