Simple + Easy Snickerdoodle Protein Shake Recipe!
There is a saying, and an excellent one at that, that urges us to "keep it simple, stupid." I disagree with the verbiage "stupid, " but the concept is spot on, especially when it comes to a Protein Shake Recipe.
Sometimes we want to make everything harder than it needs to be! So if you are struggling with gagging down the same bland vanilla protein shake, this recipe is an easy way to up the wow factor and make a basic vanilla shake to the next level. And let's face it, who doesn't crave a good snickerdoodle every once in a while – or always… LOL 😉 So whether you're looking for a VERY simple tweak or trying to crush that craving for a Snickerdoodle, this Snickerdoodle protein shake is for you, my friend!
Snickerdoodle Protein Shake Recipe
This Snickerdoodle Protein Shake is a quick and easy Protein Shake to help Mix Things Up!
Ingredients
1

Scoop Vanilla Whey ProteinPowder

1

Cup

Unsweetened Vanilla Almond Breeze

2

tsp

sugar-free vanilla powdered coffee creamer

1

heaping tsp cinnamon

8-10

ice cubes to reach desired consistency
Instructions
Just Blend in your favorite

Blender

and enjoy!!!
Nutrition Facts
Snickerdoodle Protein Shake Recipe
Amount Per Serving
Calories 186
* Percent Daily Values are based on a 2000 calorie diet.
So you see, this protein shake is a breeze to throw together and is super delicious!
Making that morning protein shake will now be EASY and delicious!! And if you are following a low-carb-conscious or ketogenic lifestyle, you'll be happy to note that there are only 7.6 net carbs. You can lower that even more by swapping out the sugar-free powdered coffee creamer for REAL cream! No carbs, and you'll get some more much-needed fat! A win-win situation right there! 😉
I get asked this all the time, what protein powder do you recommend?
MY FAVORITE CHOICES FOR HIGH-QUALITY PROTEIN POWDER:
Each Protein Powder I recommend has the highest quality ingredients, with no sketchy crap that many brands use.
So grab some spices and protein powder and blend up this delicious smoothie. You will not be disappointed!
For more delicious protein shake recipes, check out my eBook "52+ delicious Protein Shake Recipes!"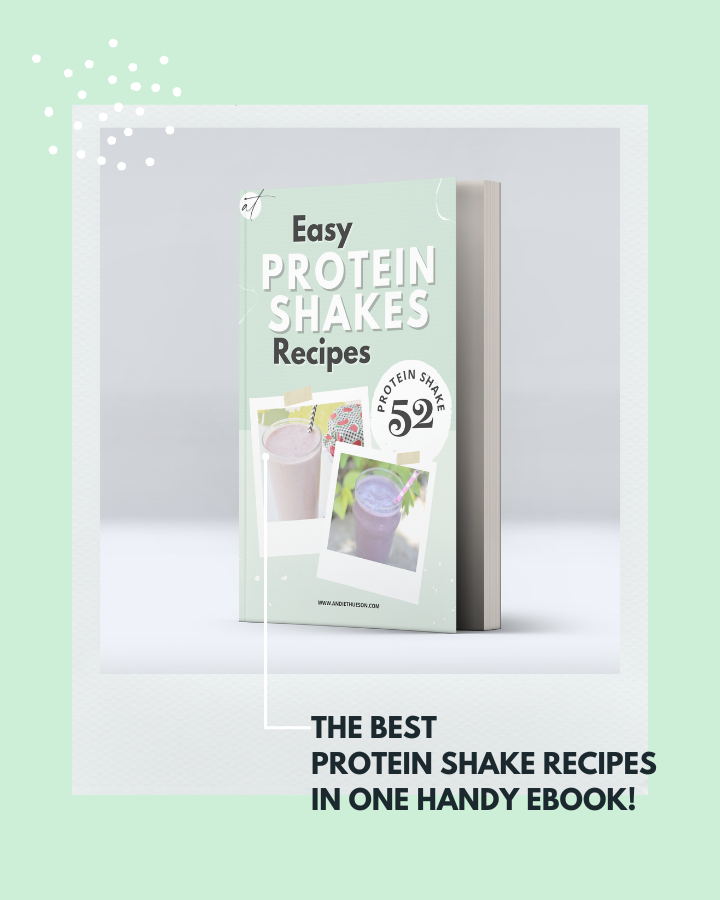 Protein Shake Recipe Book
Bust the boredom of protein shakes with this protein shake recipe book! Filled with over 52+ delicious protein shakes that you will love!
If you're looking for more easy protein shake recipes: Check these out!
Cheers + Enjoy!

A Girlfriend's Guide To Protein!
FREE WITH YOUR NAME AND EMAIL ADDRESS
Have you ever wondered why protein is such a big deal, in helping you lose weight? As a personal trainer and nutrition specialist, I see firsthand how much getting the right amount of protein can make all the difference! In my handy dandy FREE protein guide, I dive into how to calculate the right amount of protein for your body. I also share some of the easiest and yummiest ways to up your protein intake as a bonus!