30+ Drool-Worthy Healthy Oatmeal Recipes
Oatmeal is arguably one of the most underrated food items. It can be used in all types of cuisine and dressed up to be one hearty meal. But doesn't quite get the notarity it deserves. 
As soon as temperatures start to drop, I am in! Nothing is better than a steaming bowl of oats on a cold morning! They have become one of my ultimate favorite protein-packed "go-to's." 
A hearty bowl of churched up oats can keep me full until lunch. This is always a win in my book, especially on crazy busy days where I know I will be running and unable to eat for a bit. 
Oatmeal is also a metabolism and energy-boosting powerhouse food. Plus, add in the fact that it is also super affordable. It's a great way to eat healthy on a budget. I look at oatmeal as a blank canvas… Really the sky is the limit, with a little bit of oatmeal and some creativity. Overnight oats, smoothies, baked, cookies it really is quite impressive what you can cook up with oats!
I scoured the internet and asked some of my most talented blogging pals, and came up with over 30 incredible new and exciting ways for you to eat your oatmeal. So grab a bowl of oatmeal awesomeness and raise it high to toast this superfood!
Oatmeal Smoothies
Did you know that throwing oatmeal in your smoothie or protein shake is a thing? It's so good and can add some needed nutritional goodness! The following smoothies have a little something extra. *oatmeal! ?
1. Raspberry, Oatmeal, and Yogurt Smoothie from Scattered Thoughts of a Crafty Mom
2. Chocolate No Bake Cookie Protein Shake  From Andie Thueson 
3. Oatmeal Raisin Cookie Protein Shake – From Andie Thueson
4. Blueberry Muffin Smoothie – From Thrifty Jinxy
Baked Oatmeal
I discovered baked oats awhile ago. Mind Blown! They make a good amount, and my kids love them! It's an easy, hearty breakfast for the whole dang fam. These bakes oatmeal recipes are sure to impress! 
5. Carrot Cake Baked Oatmeal – From Food Done Light
6. Baked Oatmeal with Apples & Raisins – From Homespun Sprout
7. Easy Baked Oatmeal – From Thrifty Recipes
8. Apple Pie Baked Oatmeal – From Food Done Light
9. Baked Banana Oatmeal – Scattered Thoughts of a Crafty Mom
Crockpot Oatmeal
Now here we have the best of two world delicious oatmeal with the benefits of the divine slow cooker! This is another family favorite and an easy way to ensure your kiddos get an excellent hearty breakfast.
10. Hot Chocolate Slow Cooker Oatmeal – Growing Up Gabel
11. Easy Overnight Crockpot Steel Cut Oats – From Thrifty Jinxy
12. Apple Pie Slow Cooker Oatmeal – Scattered Thoughts of a Crafty Mom
13. Cherry Vanilla Slow Cooker Oatmeal – Growing Up Gabel
Overnight Oats
A new classic. I love how I can whip these up the night before and have them ready to go in the a.m. I am all about simplifying my life.
14. Blueberry Vanilla Overnight Oats – Midwest Modern Mamma
15. How To Make Overnight Oatmeal (for us newbies) – Stockpiling Moms
16. Almond Butter Chocolate Overnight Oats – My Whole Food Life
17. Easy Overnight Oats – Feel Great in 8 (Easy non crockpot stove top way to do oats overnight!)
Outside the Box Ways to Eat Oats for Breakfast
It's is amazing to me the ways you can use oats in new ways? Oatmeal pancakes, yes please! Oatmeal cupcakes, I'm in! 
18. Baked Oatmeal Chocolate Chip Breakfast Cups – Persnickety Plates
19. Blender Oatmeal Pancakes – Andie Thueson 
20. Host an Oatmeal Bar – Me and My Insanity
Good Ol' Fashioned Churched Up Oatmeal 
Getting tired of brown sugar, cinnamon and raisins? Here are some fun and clever ways to mix things up!
21. Peanut Butter Berry Oatmeal – My Mommy Style
22. Chocolate Peanut Butter Oatmeal (GF and Vegan!) Bakerita
23. 10 Minute Almond Joy Oatmeal – Two Healthy Kitchens
24. 10 Minute Pumpkin Pie Oatmeal – Two Healthy Kitchens
25. 10 Minute Apple Pie Oatmeal — Two Healthy Kitchens
26 -33. 7 Ways to Change Up Your Morning Oatmeal – One Lovely Life
34. Apple Cinnamon Steel Cut Oats – Mommy Hates Cooking
Protein Packed Oats
My favorite way to eat oatmeal is by far loading my oats with as much protein as possible! Bring on that beautiful lean muscle mass.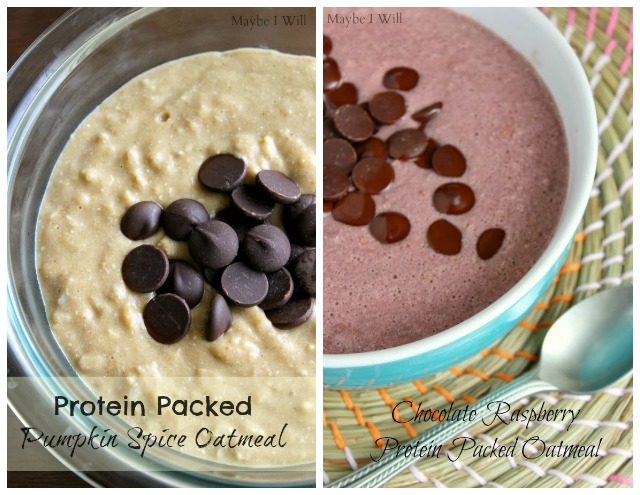 35. Protein Packed Chocolate Raspberry Oatmeal – Andie Thueson
36. Protein Packed Pumpkin Spice  Oatmeal – Andie Thueson 
37. Chocolate PB Banana Oatmeal – Andie Thueson
38. Apple Cinnamon Oatmeal – Andie Thueson 
39. Peach Cobbler Oatmeal – Andie Thueson
40. Pumpkin Chocolate Oatmeal – Andie Thueson
Healthy Oatmeal for Dessert
Always keep your fork as they say, and indulge in these guilt free delicious ways to eat oatmeal
41. No Bake After School Cookies – An Emerald City
42. No Bake Maple Walnut Energy Bites – Two Healthy Kitchens
43. 2 ingredient Banana Oatmeal Cookies– Scattered Thoughts of a Crafty Mom
44. Protein Chocolate  Backed Energy Bites – Andie Thueson 
Is your mouth watering?!?! Mine sure is! I'm so thankful for oats and the nutrition they provide me and my family! 
Did you see a tasty healthy oatmeal recipe that you are just itching to try??? Let me know which one is at the top of your list to try! 
Living your best life means eating delicious healthy good for you foods!