30-Day Love Challenge – Be Extra in Your Relationship
This post contains affiliate links; I earn a small commission when you click on the links and make a purchase.
One of the hardest parts about writing my first book, The Big Book of 30-Day Fitness Challenges, was seeing chapters and, in my case, whole challenges being cut. It was brutal. Friends, tears were shed.
This 30-day love challenge I created is close to my heart, and it was tough not to see it make it to the final cut.
I felt like the world still needed to see this. Thankfully I own my own website, which allows me easily to be able to share with you!!
My husband and I have been married for just shy of 22 years. Over the years, there have been times when our marriage was super strong, and there were times when we struggled, and I questioned if we would last. I want to say that (and I am pretty sure Mr. Thueson would agree) the vast majority of those 22 years have been good.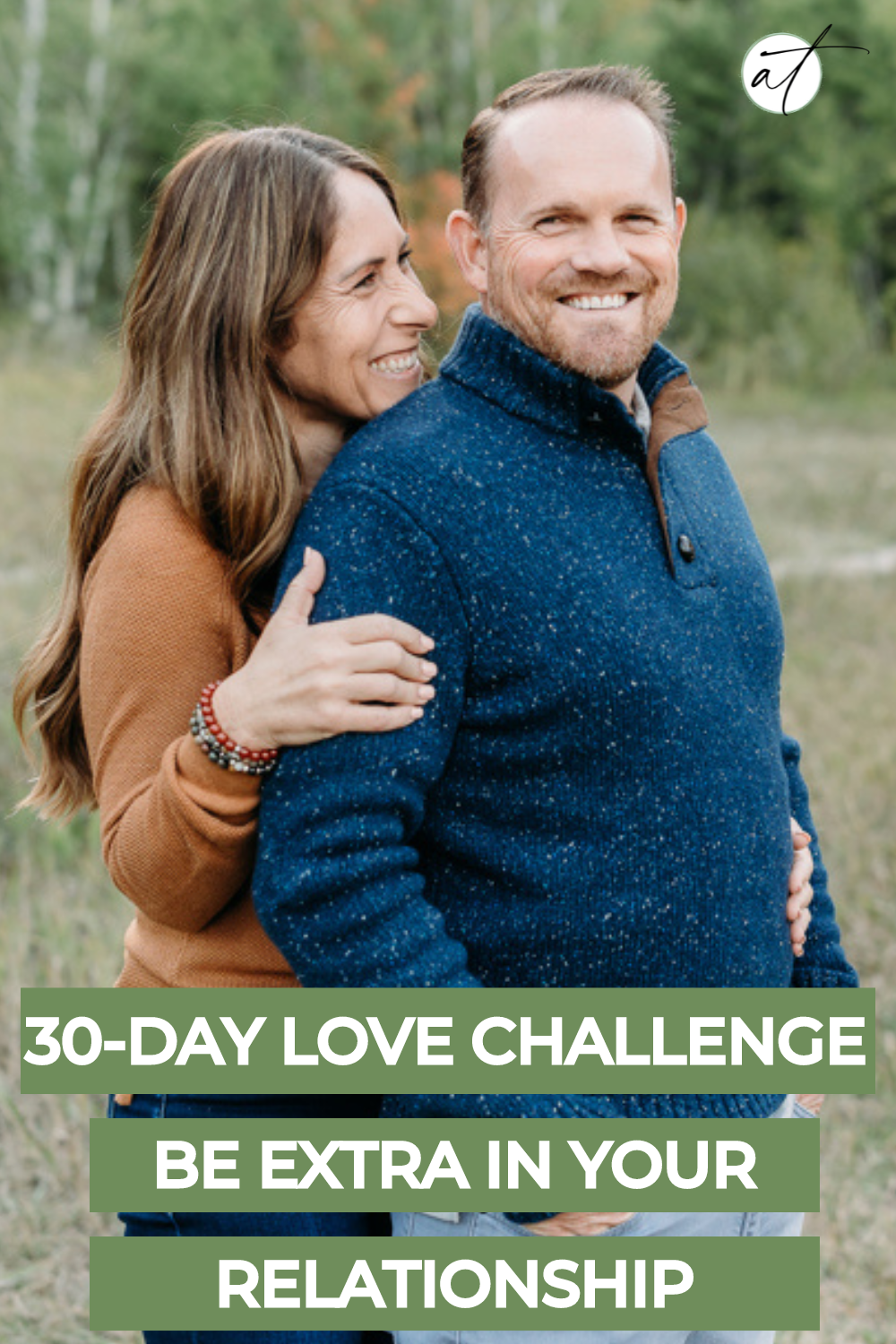 I designed this 30-Day Love Challenge to help you to connect and strengthen your relationship. Whether you're in a new relationship or have been together for a while, the idea is to sprinkle a little "something extra" on your love.
Each day you will be challenged to show love to your mate.
Day 1 Send a grateful text – Send your spouse a text saying thank you for something. I understand that this may be hard if you are in a place where you are struggling. But try and see your spouse from a place of gratitude!
Day 2 Serve Them – Their chore is taking out the trash. Do the chore for them. Find a small way you can do something to make their day easier.
Day 3 Leave a Note – Leave a little love note with their work stuff, on their bathroom mirror, in a book they're reading, just somewhere you know they will find it during the day.
Day 4 Call Them Unexpectedly – It's so funny when I call my husband at work during the day because it always surprises him. Do not make it an "agenda" call to say hello and tell them you love them.
Day 5 Give a Gift – Surprise them with a little gift for no reason. It's a beautiful way to show you care. It can be as simple as a pack of their favorite gum.
Day 6 Let It Go – If your spouse does something that bugs you today, choose to let go. Will it matter in 5 years that your spouse left the cabinet open while cooking? Or that they spaced taking out the trash? Let it go today and focus on what you love about them…
Day 7 Send them a Quote – I am a collector of quotes, and many great ones can sum up how you feel. Find one on Pinterest and text it to your spouse.
Day 8 Surprise Lunch Date – This may take a little creativity if you have young kids at home. Maybe you can meet at a park and let the kids play while you enjoy each other's company.
Day 9 Dress Up For Them: Because I'm a work-from-home mom, it's REALLY easy for me to live in my sweatpants and skip the makeup most days. But I like to doll myself up every so often to remind my husband that he has a hot wife at home.
Day 10 Send a sexy text – Your partner wants to know they are still wanted and desired, so send a text letting them know they are on your mind.
Day 11 Initiate Intimacy – Take the reigns for a change and let your partner know how much you still desire them.
Day 12 Back Massage – Everyone loves a back massage, right?
Day 13 Play a Game Together – Find a game you both enjoy and play! It's so important to continue to play and have fun together.
Day 14 Go For a Walk Together – Not only will you both get in some extra exercise, but it's also a great time to talk and reconnect.
Day 15 Breakfast in Bed is a nice treat for your special someone.
Day 16 Try Something New – Whether you try a painting class, ziplining, rollerblading, karaoke, or tennis – get out there and try something new together!
Day 17 Send them a song that says it all. There is so much good music out there!
Day 18 10 Things I Love About You – Write out ten things you love about your spouse and give them to them.
Day 19 Cook or order in your spouse's favorite meal.
Day 20 Date Night – Try your best to recreate your first date.
Day 21 Laugh Together- Share your favorite YouTube or video clips that you love.
Day 22 Compliment your spouse several times today.
Day 23 Have a "Dream" Date – sit down and talk about your dreams for the future together.
Day 24 Make Out – when was the last time you just made out with your spouse?
Day 25 Send a cute selfie to your spouse. Bonus points if it is scandalous
Day 26 Write your spouse a love letter.
Day 27 Shopping Trip – Pick out something you know they'd look great in.
Day 28 Do something you know in your heart they would LOVE. I know my husband loves it when I vacuum out the car. You know your spouse best, so do something you're certain matters to them.
Day 29 Buy a Card – Cards aren't just for holidays. Find a card that expresses how you feel and surprise your spouse. Throw in some "sexy coupons" to be even more "extra."
Day 30 Reflect on this challenge and write a letter expressing how you have felt serving your spouse these last 30 days. Think of ways that worked for you to express love and pick a few to continue after the challenge is over.
Have fun with this! There is no need to go in the exact order. If you're not ready to jump into some of these right away, do some of the others first and work yourself up to some of the more "gutsy" ones.
The most important part of this 30-day love challenge is showing LOVE, which looks different for everyone. Try and think about how your partner loves to be loved and make sure those are in the mix!
A healthy, strong, and sensual relationship is essential for happiness and living your BEST life. When the love/relationships sector of your life is broken, other key areas also fall out of place. So please take the time to make your relationship a priority! Spice is IMPORTANT!!
Psst… To help you up your romance, Kelly and I added some of our favorite "spicy" items to an Amazon store, where you can discreetly have things delivered right to your door! It's time to have fun and embrace this part of your relationship! ❤💋

Andie
Love a good couple's challenge? Try out a couple of my others!
Just remember to have fun + embrace this part of your life, good luck with your 30-Day Love Challenge!
For fun, I added the Podcast episode where Kelly and I talk about our Love story; it's a fun listen.