Make This Year, A "Sexy Christmas!" Your Partner Will Love!
This post contains affiliate links; I earn a small commission when you click on the links and make a purchase.
*Updated 10/24/22
My husband and I are obsessed with the show Ted Lasso if you have not watched it. Take a weekend and binge the entire two seasons that are currently available! You will not regret this life choice. The show is worth all the hype.
Anyway, in one of their latest episodes, two of the main characters, Roy and Keeley, share their plans for a sexy Christmas with a whole swanky Frank Sinatra-esk vibe. Sadly their "Sexy Christmas" is thwarted by Roy's niece Phoebe and a case of intolerable and dry heaving inducing bad breath. So their "Sexy Christmas" is moved to Sexy December 28th, as Roy declares, "is the sexiest day anyhow." (again, best writing!) But the whole scene and idea got me thinking…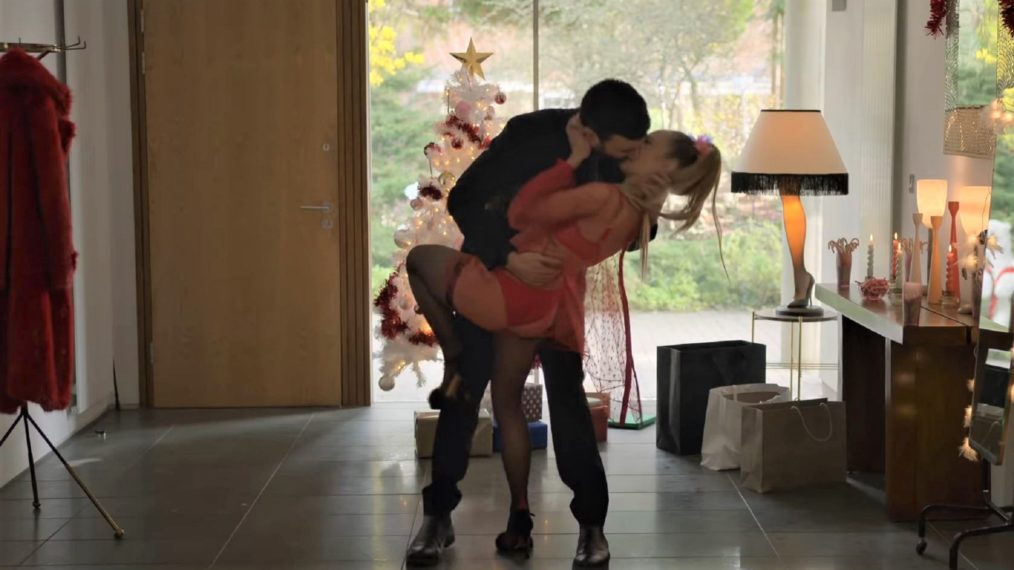 After 20 years of marriage, I love keeping romance alive and finding fun ways to surprise my man. So this year, I am taking a page from the lovebirds Roy and Keeley and incorporating my take on Sexy Christmas in our home. And, of course, I want to share all my crazy research, and "Sexy Christmas" finds with you so you, too, can get in on the fun and share a bit of spicy fun this holiday season with your significant other.
So if your significant other is on the nice list, and you want to gift them with a naughty Christmas, you are in the right place!
This is all in good classy fun. Like many self-proclaimed "good girls," talking about sex was something I didn't feel comfortable talking about. But I have seen firsthand that many marriages are suffering as a result! Sex is something we need to talk about and acknowledge that it is a massive part of our overall health, personally and in our intimate relationships. The fact of the matter is strong healthy marriages and relationships involve sex! So let's take away the shame, guilt, and stigma and have some fun with this essential part of our relationships!
It All Starts With The Right Sexy Christmas Outfits!
I scoured the internet, and if you want to surprise "Santa Claus with a sexy "Mrs. Claus" panty set, these are the ones! They are super fun and definitely spicey!
If you are looking to go the route of sexy Christmas costumes, I got you!
Why should the ladies have all the fun? Here are some sexy Christmas Costumes for Men!
Next, Comes Picking The Perfect Get In The Mood Christmas Song! Here is a list of the sexiest Christmas Music.
I Saw Mommy Kissing Santa Claus -Jessica Simpson's rendition
Santa Claus Is Back In Town- Elvis Presley
I'll Be Your Santa, Baby – Rufus Thomas
I've Got Some Presents For Santa – Sarah Taylor and Bill Mumy
Wit It This Christmas – Ariana Grande
Christmas Eve-Justin Bieber
Santa Baby – Eartha Kitt
All I Want For Christmas Is You – Mariah Carey
White Christmas -Michael Buble
Let it Snow – Boyz II Men
Mistletoe – Colbie Caillat
Merry Christmas, Darling – Christina Perri
Christmas Memories – She & Him
Cuddle Up – Catey Shaw
All I Need Is You – Maggie Rose
These are just a few ideas. I found this awesome playlist on Spotify entitled: Sexy, Sexy Christmas: The Naughty List. It is an excellent list with so many sultry and sweet Christmas jams, perfect for setting the mood.
To start spicing things up, try texting some of these flirty + scandalous Christmas quotes!
The only package I want this Christmas is yours.

I'd like to jingle your balls.

All I want for Christmas is you.

Let's be naughty and save Santa the trip.

Can I sit on your lap and tell you what I want this year?

Baby, it's cold outside… let's warm each other up?

You light me up like a Christmas tree.

Want to hear my grown-up Christmas list?

I'd ride that sleigh.

I wish I were a present so I could get laid under the Christmas tree.
I hope this post inspires you to make this year a bit different! To embrace and make sure your significant other feels how much you still love them and want them! After I posted my 30-Day Love Challenge, I heard that this is an area of your life where many of you struggle! Intimacy within marriage after so long takes work! But finding fun ways to spice things up and play is so important! Don't let the flame of your passion burn out.
So head over to Amazon and order some sexy Santa costumes, or heck, since it's close to Halloween, buy a sexy Christmas Halloween costume at your local Halloween store. They usually have a good selection of sexy costumes. I sometimes go right after Halloween and pick up a few sexy costumes at 50% off to surprise Kelly throughout the year! Yes, we love keeping things interesting!
Want More Ideas For Keeping The Flame Alive In Your Relationship? Check Out These Posts:
Merry Christmas, Friends, and Let's have some fun making this year the "sexiest Christmas ever!"