I Want Candy!! – 7 Healthy Candy Inspired Protein Shakes!
I am on day 8 of a 28 day diet bet challenge… I have cut out sugar which I have freely admitted in the past, is my Achilles heel when it comes to sticking to my clean eating ways! But I am determined to make it the whole 28 days without sugar! I am already feeling so much better! But some days a girl just wants some candy! Really… Can you blame me?!?! So in my darkest craving hours, I have relied on some of my favorite candy inspired protein shake recipes! So I thought I'd share my favorite cravings crushing go to Candy Inspired Protein Shakes! Not only do they taste like dessert and pure bliss… They are healthy and packed with good for you goodness!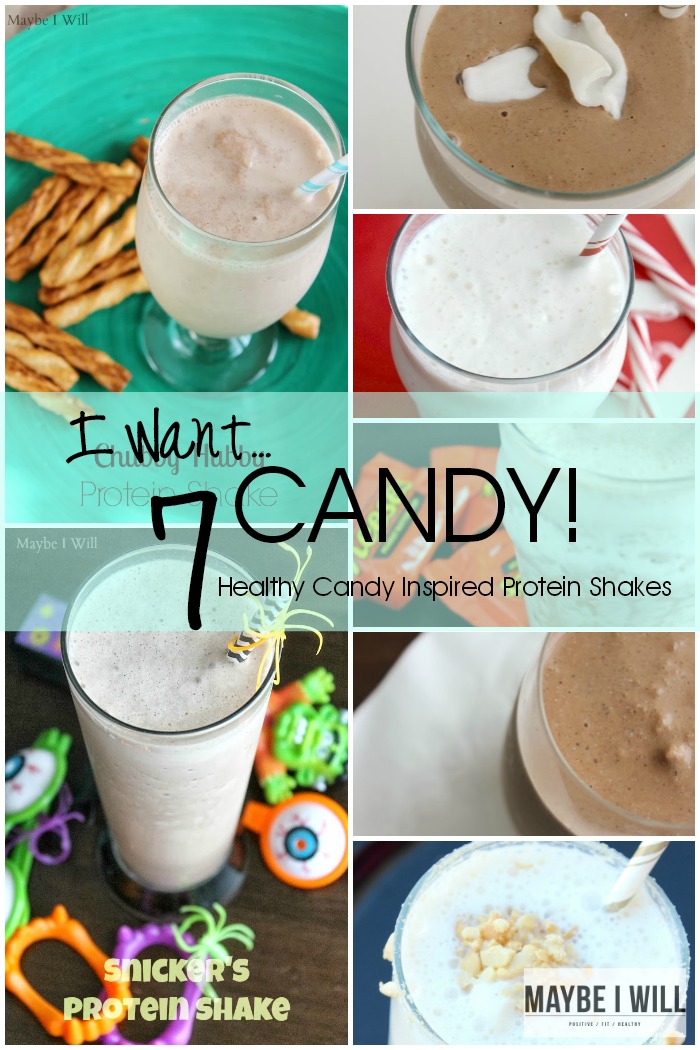 Is your mouth watering yet?!?!
This yummy Chubby Hubby Inspired protein shake definitely won't make you Chubby!
Sometimes you feel like a nut, sometimes you don't… I always feel like an Almond Joy Protein Shake!!!
No need to get all Hangry… Just reach for a Snickers Protein Shake
I know you still have a few candy canes from Christmas lying around…. Oh wait that's just me! 😉 If you don't just omit the crushed candy canes and use only the peppermint to create this lovely Candy Cane Protein Shake
Seriously sometimes a PB Cub can make the world just make sense! If you have a hankering try this Peanut Butter Cup Protein Shake Instead!
Mocha Almond…. Need I say more, This Mocha Almond Protein Shake is Ahhmazing!
For those days when a PayDay is what you're Jonesn' for try this Creamy Caramel Cashew Protein Shake
So there you have it my top 7 Candy Inspired Protein Shake Recipes! I am now off to Blend one of these bad boys up in my Blendtec!! (Best Blender in the world!!!) For reals go buy one if you don't already have one! It will change your life! I think I'm leaning towards the Almond Mocha… What's candy do you crave the most?!? Maybe I Will… make it into a Protein Shake for you! 🙂
A Girlfriend's Guide To Protein!
FREE WITH YOUR NAME AND EMAIL ADDRESS
Have you ever wondered why protein is such a big deal, in helping you lose weight? As a personal trainer and nutrition specialist, I see firsthand how much getting the right amount of protein can make all the difference! In my handy dandy FREE protein guide, I dive into how to calculate the right amount of protein for your body. I also share some of the easiest and yummiest ways to up your protein intake as a bonus!