100 Ways To Raise Your Vibe Right Now!
This post contains affiliate links; I earn a small commission when you click on the links and make a purchase.
If you have ever picked up any diet book or followed any fad diet, tuna is always at the top of the list of items you are encouraged to eat. "They" often tout it as the perfect way to sneak more protein into your daily life.
It makes sense. Tuna is packed with protein, a mighty 15 grams of protein per 2 oz serving. And it will only cost you 70 calories. Those are pretty impressive stats, friends, making tuna a total win to add to your meal and snack rotations.
But let's face it, tuna by itself can be a little bit meh. But the good news is that tuna is a blank palette and can be transformed entirely with a few simple ingredients. And if you are looking for a tuna recipe without mayonnaise because you are not a fan, then you, my friend, are in the RIGHT place. As a lover of tuna fish, I have decided to share a few of my favorite tuna recipes that I have continually turned to over the years to help me keep my tuna eating healthy and keep me on track with meeting my health and wellness goals. These three tuna-terrific recipes are easy healthy recipes that are great for a light lunch, snack, or even a simple healthy meal. I like to keep things simple and easy, and you will find all three of these recipes just that!
These recipes are so good they went VIRAL on Buzzfeed!
It is hard to avoid the word vibration or vibes in today's world. We see this phraseology on t-shirts, bracelets, sweatshirts, and bumper stickers. The "positive vibes" seem to be everywhere. But what exactly does the term good vibes mean, and why is it so important to be "high vibe."
Like many of you, my search into spirituality is relatively new. A few years back, I remember I was pretty confused by it all, and I was unsure of where to start and exactly what it all meant. If you are on the lookout for ways to raise your vibration and better understand what that actually means and how to create a higher vibration, then my friend, you are in the right place.
Let's start with the basics of what vibration is.
One thing we need to understand is vibrational law, which is a universal law. The Law of Vibration states that everything in the universe is in a constant state of movement. We refer to these movements as vibration, and the speed or rate at which something vibrates is referred to as its frequency. The only difference between one object and another is the rate of its vibration.
When it comes to physics, this makes sense. But we must also understand that we are energic beings, and we vibrate at a frequency that controls what we attract into our lives, i.e., the law of attraction.
Suppose we vibrate at low vibration energy and focus on negative emotions, and surround ourselves with negative people. In that case, we will naturally draw bad things and situations to show up for us. Think about it this way, we all have that friend that swears that "murphy's law" was written for them. They always have a negative attitude and genuinely believe the WORST case scenario always happens to them; inadvertently, they have placed themselves in a low vibe, and they attract everything they proclaim. The universe hears them, feels the energy, and delivers precisely what they ordered, more negativity and worst-case scenarios.
But the good news is we are the author of our story, so we can take this law of vibrational energy and use it to our advantage. We can choose to create a higher frequency and the highest vibration possible for ourselves by taking the time to pay attention to our energies. The biggest clue we have to our current frequency level is our emotions. Take a look at the chart below and see what emotions radiate at what level.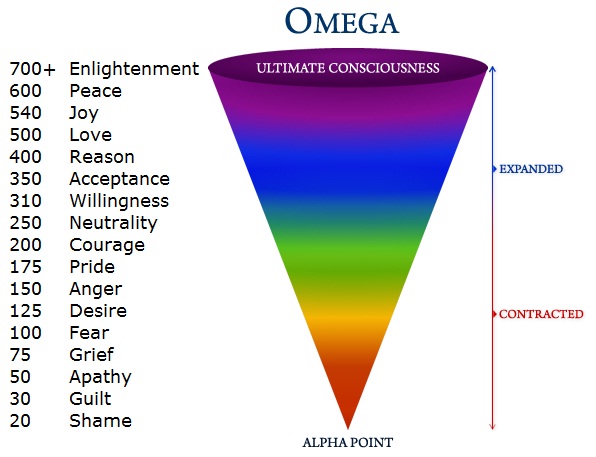 Take inventory. Are you currently radiating at a low vibrational frequency or a high vibrational frequency?
When we choose to raise our vibe, we attract good things into our life experiences. Our mind is crazy powerful, and we can control a lot of our energy frequency by having a constant flow of positive thoughts and experiencing positive feelings.
We all have heard that being in a good positive emotional state is the quickest way to attract and manifest what we want into our lives. Napoleon Hill wrote in Think and Grow Rich that our mind creates for us in powerful ways through pure life force energy.
Very Simply Put:
positive energy = positive things and experience

negative energy = negative experiences and things
But like many of you, as hard as I try, sometimes I am just not naturally in a high-vibe state. I wake up in a funk, or something happened to shift me into low frequencies. This is when this handy dandy list of 100 + ways to raise your vibration can be a lifesaver.
Here are 100+ Simple Things You Can Do To Raise Your Vibe
Hold a baby
Watch a funny movie
Pet a dog
  Read an uplifting high, vibe book
Go to lunch with a friend
  Write in a gratitude journal.
  Make your favorite treat.
Paint a picture
Go for a walk
 Look through a magazine that feeds your creativity.
Go on a picnic
Play hide and seek with a child
Cook a healthy dinner
Listen to uplifting music
 Play a card/board game with family members.
Do a yoga class
Play an instrument
Plant a tree/flowers
 Hang out with someone that makes you laugh and surround yourself with positive people.
Go to a lake
Meditate – Spend time working on your meditation practice
Listen to a spiritual/motivational leader podcast
Savor your favorite drink
Volunteer to help someone
 Look at pictures of places you want to travel.
Make a vision board
Take a candlelight bubble bath
Enjoy a glass of wine
Watch the sunset
Take a class to learn a new skill
Make-out (Yep, get those lips smackin')
 Crack open good personal development books.
Write a poem
 Look at the cars you want to have
 Jump on a trampoline like a little kid:)
Go out to eat at your favorite restaurant
Walk on the beach
Start an Impromptu Dance Party (drop it like it's hot)
Pick fruit at an orchard and enjoy fresh organic fruits (very high vibrational)
Write a story
Sing a song (like no one is listening)
Donate to a charity
Watch your favorite show (as long as it's light-hearted)
Enjoy coffee at a local cafe with a friend or a book
Shop for an outfit that you feel sexy in!
Go horseback riding
Watch your favorite animated movie you watched as a kid
Have a water fight
Make home-made ice-cream
Go to your local pet store
Hand a homeless soul some cash
Say hi to every stranger you see that day
Eat a candlelight dinner on the deck
Deep clean your home (cleaning out all the stagnant energy is good!)
Send a loving text to 5 people.
 Practice Gratitude. Spend 15 minutes saying out loud all the things you're thankful for in your life.
Pull out your stash of past birthday cards written to you and read them
Take a nap
Get a pedicure/manicure
Practice mindfulness of being in the moment
Ride a bike
Read a story to children
 Look in the mirror and say, "I love you; I really, really love you!" (Fo' Real, DO IT!!)
 Be a complete goof, nerd cornball! It makes life fun:)
 Get some physical exercise, and move your body!
Look each person in the eye that you pass that day and smile
 Go to a park and play like a kid.
Fly a kite
Plan a party
Hang up pictures of people that make you happy
Put an ice cube down a "playful" someone's shirt:)
Wrestle and tickle with your Love or children
Choose a room in your home and redecorate it
Run through the sprinkler
Pick a bouquet of wildflowers
Perform in front of a crowd
Enjoy a spiritual conversation with someone with an open mind
Bake cookies for a neighbor
 Breath (Take six deep breaths in through the nose and out through the mouth)
Plant a garden
Go to a concert
Learn about a new culture and go to a restaurant with that food
 Go to an art gallery or museum.
Make home-made play dough
Get your hair did! (Damn, I look good)
Karaoke with friends
 Go to a local farmers' market.
Set up an outdoor movie and pop popcorn
Do a puzzle
Take a pottery class
Have a snowball fight
Go skiing/snowboarding
Go fishing
Get a relaxing massage
Go to an amusement park
 Take a stroll at the zoo.
Go laugh your buns off at a comedy club
Walkthrough a beautiful garden
 Go hiking in the mountains, enjoy mother earth, and get some fresh air!
Make LOVE!!! One of my favorite ways to raise my vibe.
Take a social media break.
Drink water; a well-hydrated body is good for the soul, so remember to drink lots of water.
Diffuse Essential Oils (lavender, sage, lemongrass, jasmine, frankincense, patchouli, myrrh, cedarwood, juniper, and rose are great for raising your vibe!)
Take Five minutes to focus on the present moment, and use my think five grounding tool.
Feng Shui your space.
This is not an exhaustive list of ways to raise your vibe. You know yourself better than anyone. Get quiet and listen to your higher self via meditation, and get in tune with what you need to raise your vibration! We all are so different, and what works for me may not work for you, and that's okay! Review this list and choose some that work for you, or find your own ways to shift to a high frequency.
Sending you good vibes and much love,